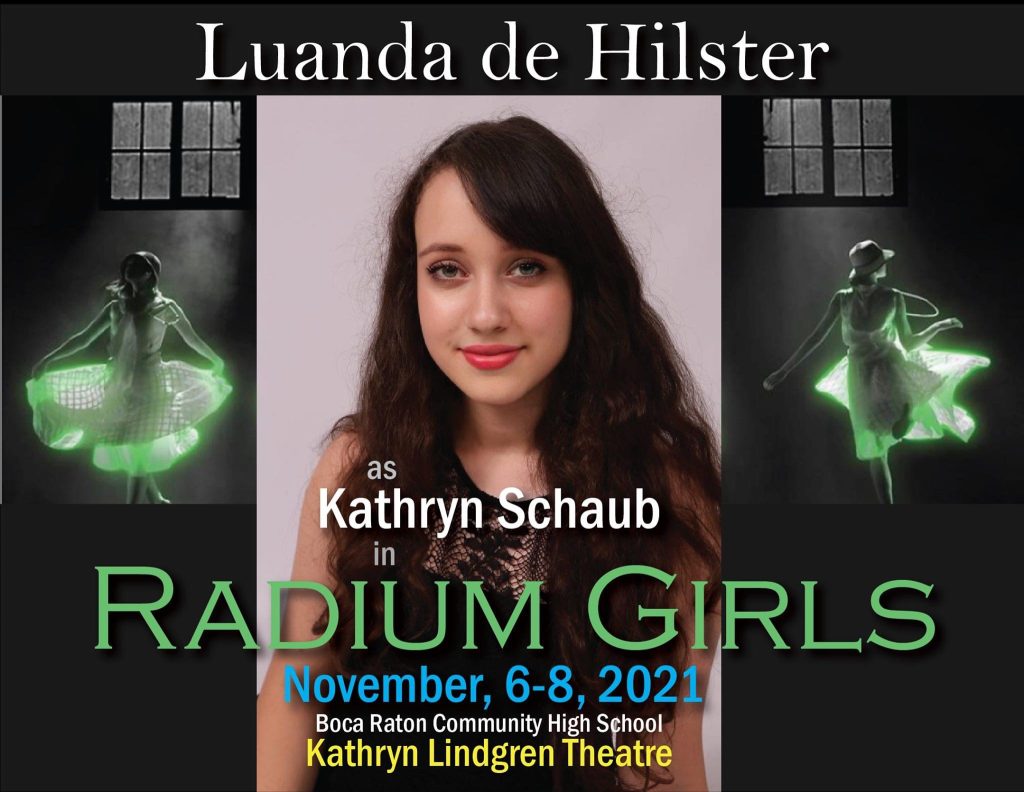 Luanda de Hilster having just turned 16, has landed a lead role playing Kathryn Shraud in the play "Radium Girls" in Boca High drama department's fall play. Being her first non-musical audition, Luanda landed the role of the best friend to the play's leading role of Grace Fryer. During her freshman and sophomore years, Luanda opted to be part of the technical team on the fall plays working on sound for the musical "Chicago" and assistant technical director for "Two Guvnors". Also as a sophomore, Luanda landed a part in the musical "Jekyll & Hyde" as a Red Rat Dancer as well as receiving a superior rating for her solo musical "Her I Am" at both district and state competitions as the only sophomore to compete in that category.
Photos from November 6, 2021 @ 7PM
[Best_Wordpress_Gallery id="13″ gal_title="Radium Girls"]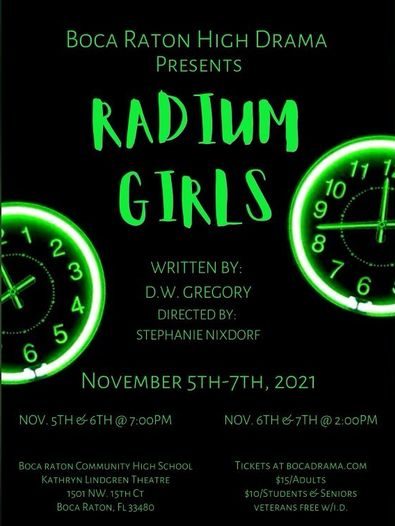 The production will take place at the Kathryn Lindgren Theatre at Boca Raton Community High School in front of a live audience in early November. Because of COVID, last year's productions took place in the Brandstar Television Studio broadcasting on the internet. This year, the drama club goes back to their home at the Lindgren Theatre and will be able to feel the energy from the audience during this extremely poignant and entertaining play.
This is the first production directed by Stephanie Nixdorf, the new drama director who will also direct this school year's musical "The Drowsy Chaperone" slated for 2022 also to be at the Kathryn Lindgren Theatre.
Character Description
KATHRYN SCHAUB– A friend of Grace, another dialpainter, is also age fifteen at the start of the play. She is the dreamiest and most romantic of the three girls, always filled with ideas of love and beauty (and all the gossip they accompany). She provides contrast to her cousin, Irene. After Irene's death, Kathryn is the first to really sense the danger they're all in, and becomes truly afraid, sometimes hysterical. As her own illness progresses, she becomes more and more cynical, believing that people will do and say anything, except what's right. She is the second of the dialpainter girls to die.