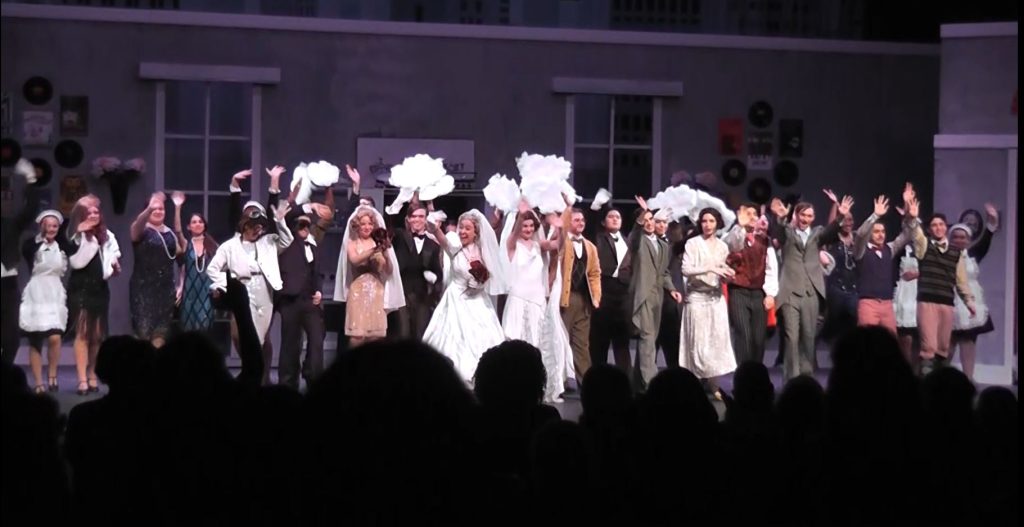 Like most performance groups, Boca High Drama Club dealt with the pandemic the best they could by performing last year virtually. They were blessed with an offer from BrandStar Studios to do both their play and musical in a real television studio and as I wrote last year, they turned lemons into lemonade. It was a great experience for everyone but it wasn't home. Home is the Kathryn Lindgren Theatre at Boca High and for the 2022 spring musical, it was a homecoming to remember.
Following the theme of the early 20th century, director Stephanie Nixdorf bookended the theme with the hilariously funny "The Drowsy Chaperone" complimenting the very serious and successful fall play "Radium Girls" in 2021. With so many serious problems in the world, it was high time to have some fun and laugh and this musical had that in buckets full.
The Cast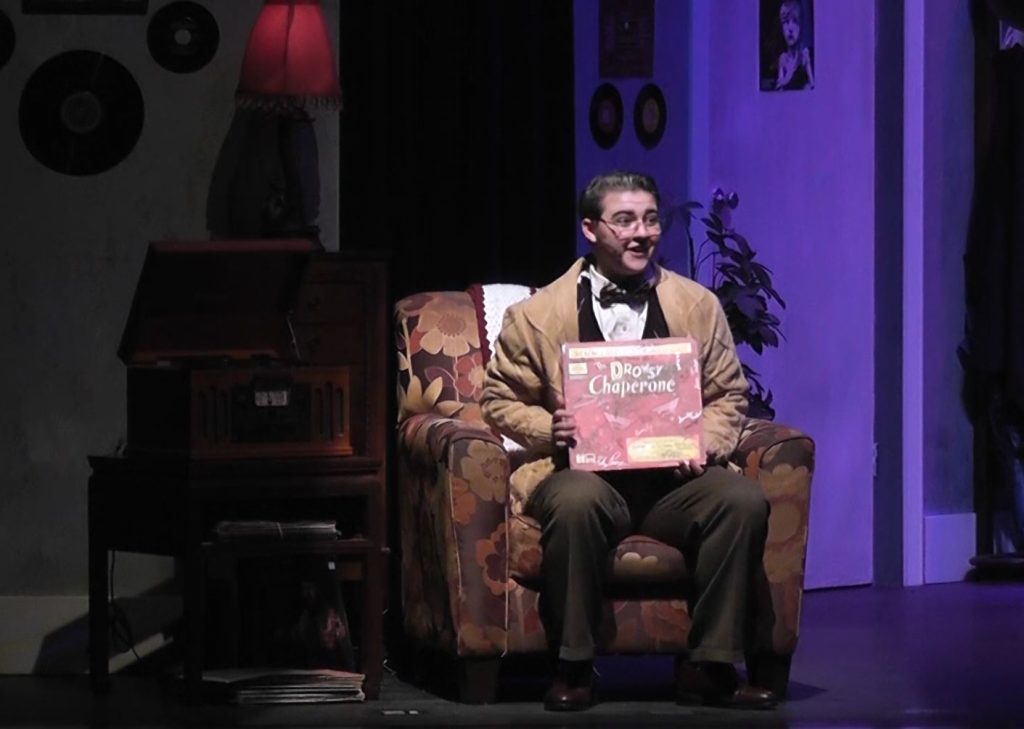 The musical is about a fictitious musical called "The Drowsy Chaperone" which takes place in the living room of a musical theater lover who listens to musicals from his LP record collection. "The Man in the Chair" as he is called in this musical, was played by Austin Tindell who quickly drew the audience into his quirky world with witty banter and a true love of musical theater. Tindell played the narrator to a tee using his acting skills to be both vulnerable and introspective – all the while showing his love and passion for musical theater. There was no one in the audience who questioned Tindell's talent or Nixdorf's choice in casting. Tindell swept the audience into the story and never let go.
Couple One – The Main Characters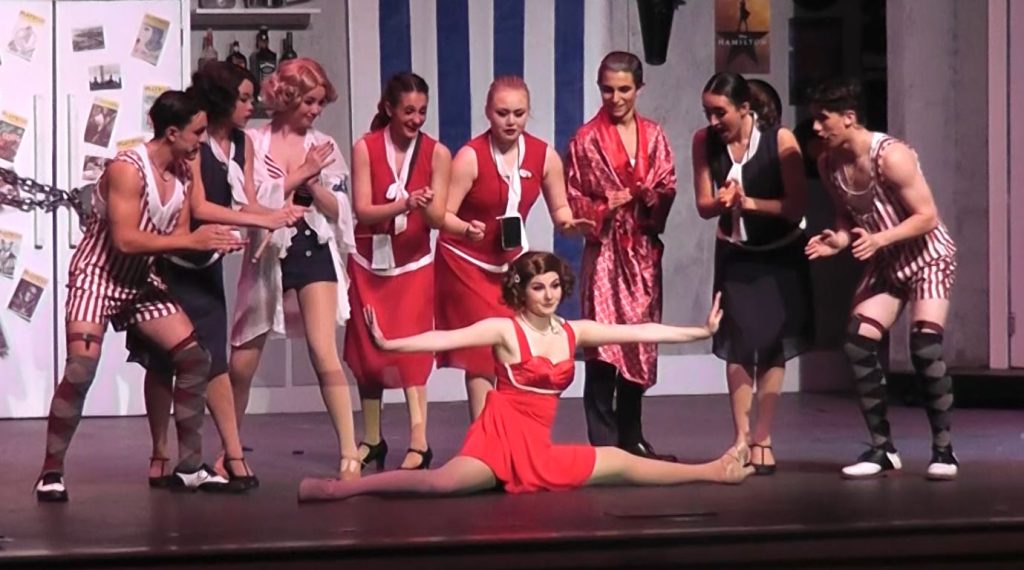 The story revolves around the wedding of Janet Van De Graff, played by Faith Alfieri, and Robert Martin, played by Connor Austin. Both actors are seniors being trained at Taylor Made Dance Studios in Boca and it shows. Triple threats from the beginning, Alfieri and Austin show they can act, sing, and dance at levels that should propel them well into their musical theatre careers in universities and beyond. Alfieri had the bulk of the show's numbers which not only showcased her versatility as a dancer and actor, but her voice belted out tunes song after song with some notes long enough to span entire intermissions and still come back to your seat. In the musical number "Show Off", Alfieri truly "showed off" her multiple talents in dance and singing that gave the audience little time to catch their breath, all with immense energy and skill.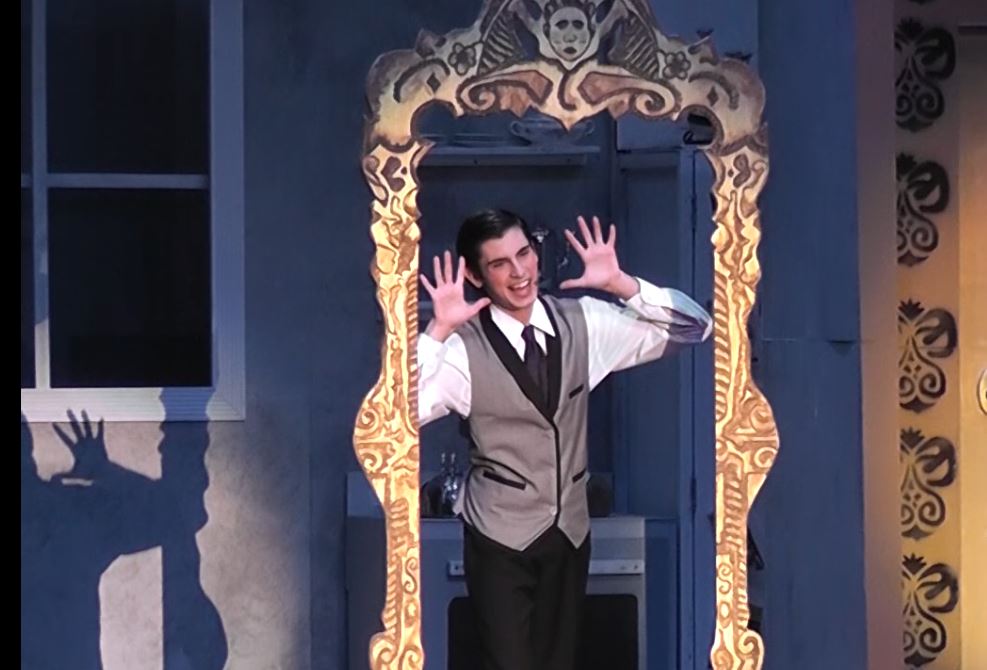 Connor Austin's talents showed through in all aspects of this quirky character's performance who skillfully sang, danced and roller-skated his way through the musical. His tap dance duet with Antonio Saladino was one of the most applauded numbers through four nights and rightly so. Both Austin and Saladino wowed the crowd with their perfect tap-timing and dance moves that was as impressive as tap can be on a high school stage. Austin was surely another strong triple threat on stage that night.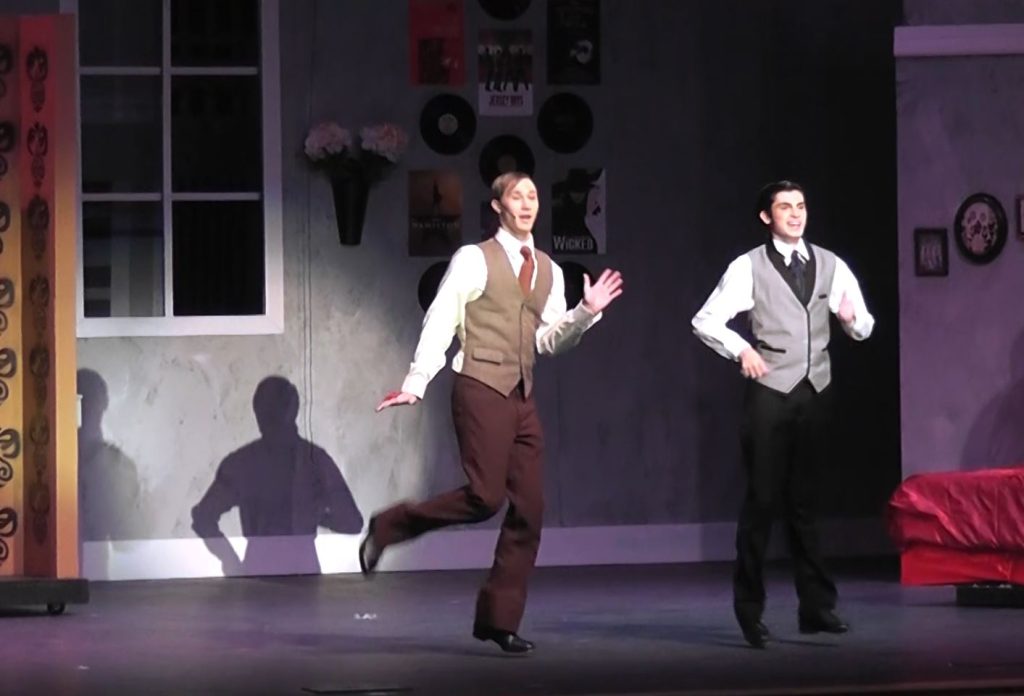 Couple Two – The Odd Couple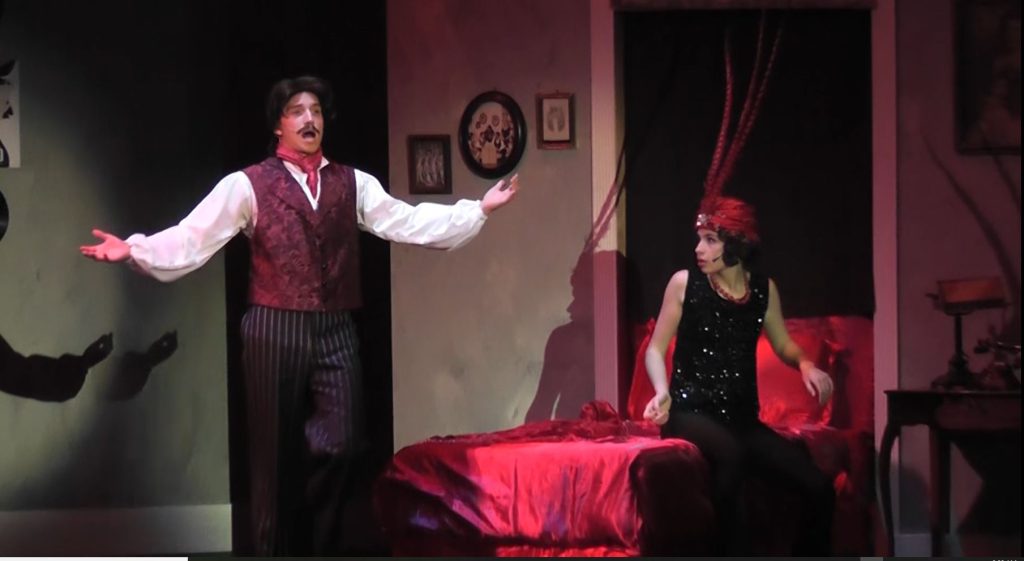 The oddest couple of the night was that of The Drowy Chaperone, played by Sarah Lash, and Adolfo, played by Eryk Dewire. Lash's interpretation of the drunken, frustrated Chaperone was a tour-de-force acting performance embellished with her angelic award-winning voice. Lash played the part so well that at times I truly disliked this character and realized that it was Lash's superb acting that made us feel that way. Even though the character was annoying at times, it was also endearing and coupled with Lash's singing, made her solos a truly special treat in this musical production. Lash is Lash after all.
Dewire on the other hand chose to play what could have been a very "annoying" Adolfo in a very humorous and lovable way. For the characters in the script and on stage that had to tolerate his exaggerated self-love, Dewire's sense of all things comic was on full display. Dewire endeared himself quickly to the audience adeptly portraying a truly vulnerable yet loveable character that made him a crowd favorite. He did have help though: his cane. Dewire was great! Bravo!
Couple Three – The Framed Couple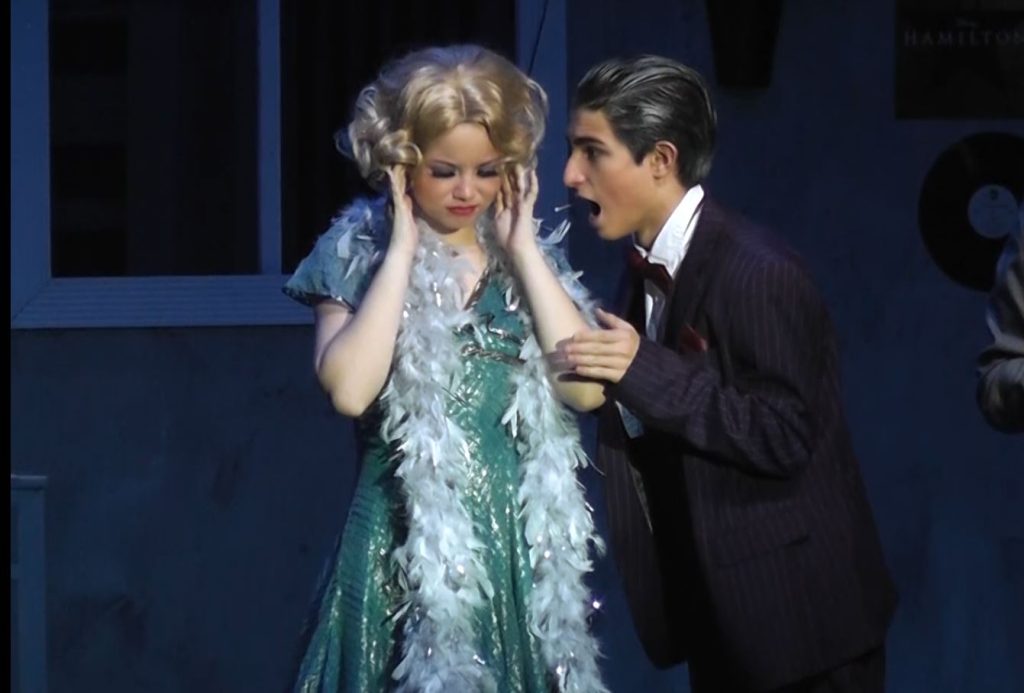 Kitty, played by Gianna Downing, and Feldzeig, played by Pedro Costa were a real special treat. High school senior Downing played Kitty to absolute perfection and I could not find a flaw in that performance. Timing, dancing, acting and singing where spot on and Downing played it so well, that you truly got lost in the character, never suspecting that Kitty was a fictitious character in a musical. Costa, only a freshman, showed off acting skills well beyond his age. With impeccable timing and a powerful acting voice, Costa never missed a beat and looked like a veteran of the stage. Give this young talent some more time to mature his singing and dancing and watch out!
Couple Four – A Crowd Favorite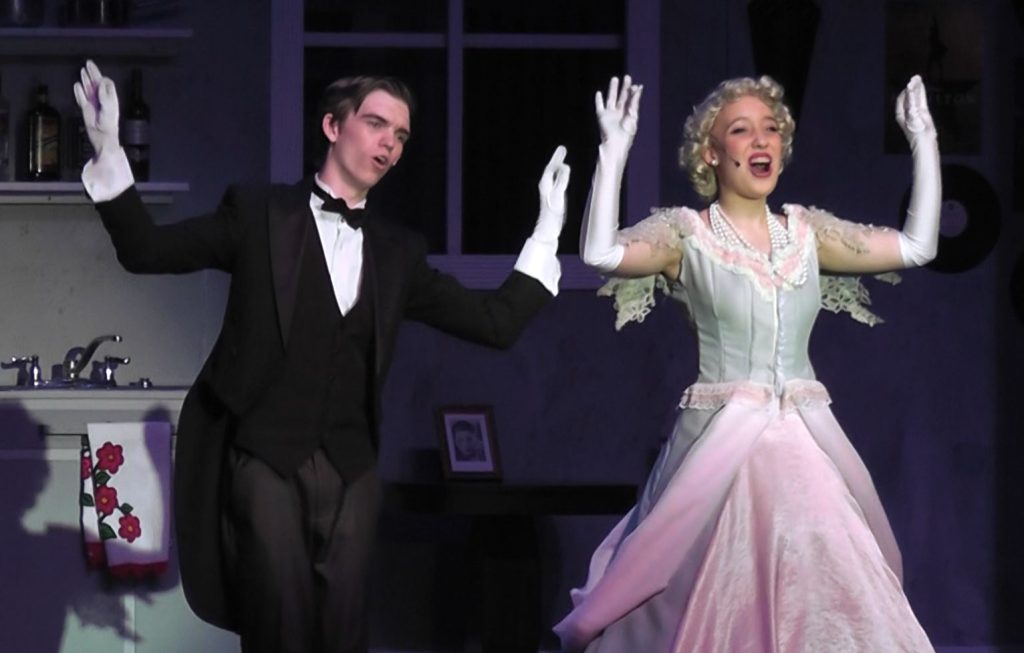 The first couple on stage however was a crowd favorite providing a magical treat within the musical. Mrs. Tottendale, played by Luanda de Hilster, and Underling played by the Cameron Samples, were at the highest level of musical theater entertainment you can find in a High School production. For every magical moment by de Hilster's pitch-perfect singing, poetic body language, and spot-on acting, Samples matched it with deadpan charm, silly antics, and imperfect everything which only endeared them more to the audience. This was a couple made in heaven and in the opinion of this author, the most magical couple of the night.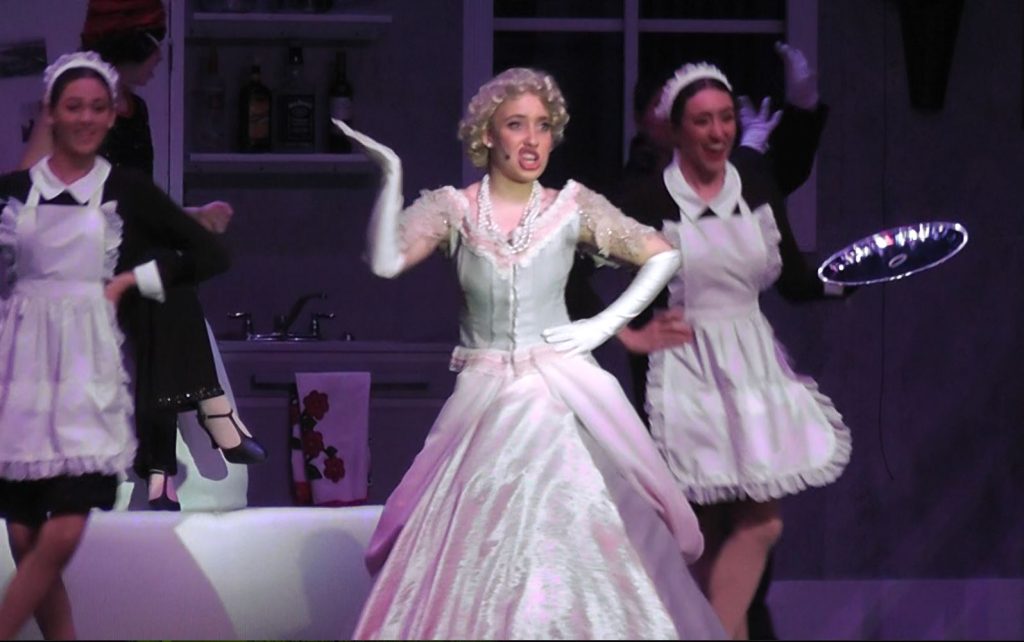 De Hilster's interpretation of Mrs. Tottendale was a sight to behold and it was hard for the audience to take their eyes off her during the number "Love is Always Lovely in the End". As one audience member put it: "I was very impressed not only by her singing and dance steps, but she also had all the perfect attendant arm and hand movements and facial expressions – very professional". She has "it" as they say in the business and this author cannot wait to see how Nixdorf uses this talent in her final and senior year. And as for the famous spitting scene, de Hilster showed off her natural comedic talent – a side of her that may be unexpected from a crowd used to de Hilster's powerhouse performances.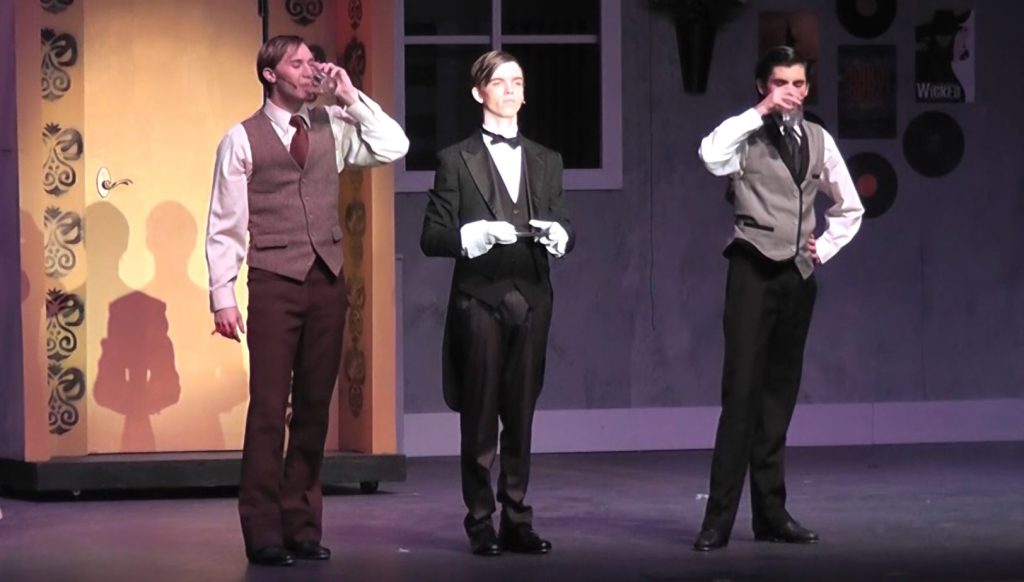 Samples playing the butler throughout and often solo without de Hilster, succeeded in stealing the show several times, the most notable in the middle of the best dance number of the night: "Cold Feet". While Austin and Saladino were tapping up a storm, there was a pause where Samples the butler comes out and provides them both with a glass of water. When returning off stage, Samples taps his way for an unsuspecting audience who did not expect the stodgy butler to try in join in the tap number. It was quite a magical moment.
The Cast and Ensemble
A great musical has its talent spread around and this was certainly the case with Boca's Drowsy. Trix, played by Maia Martinez, took to the air as the pilot of the airplane who surprised the audience with a belting voice and acting ability that easily showed Martinez's experience as a musical actress. A veteran of many performances throughout the years, Martinez was a delightful surprise that was greatly appreciated by the audience each night.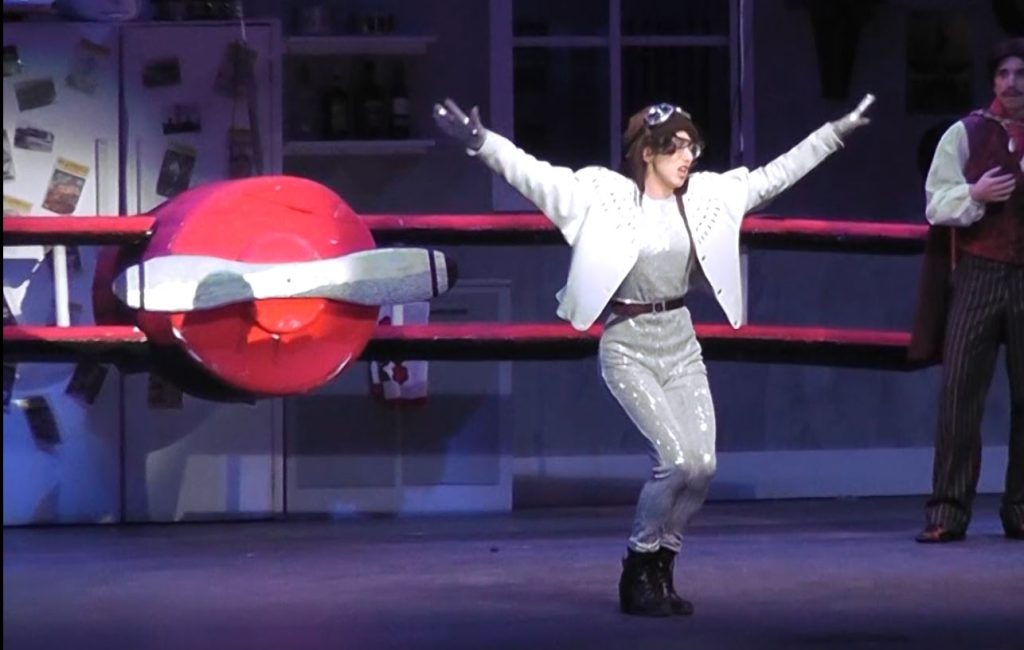 George, played by Antonio Saladino, was also a treat with his tap dancing skills, singing, and acting on display for all to see. Coming from a talented family and having been thrust into performing from an early age, it is great to see Saladino finding his own voice on stage which shows an extremely bright future for the high school sophomore.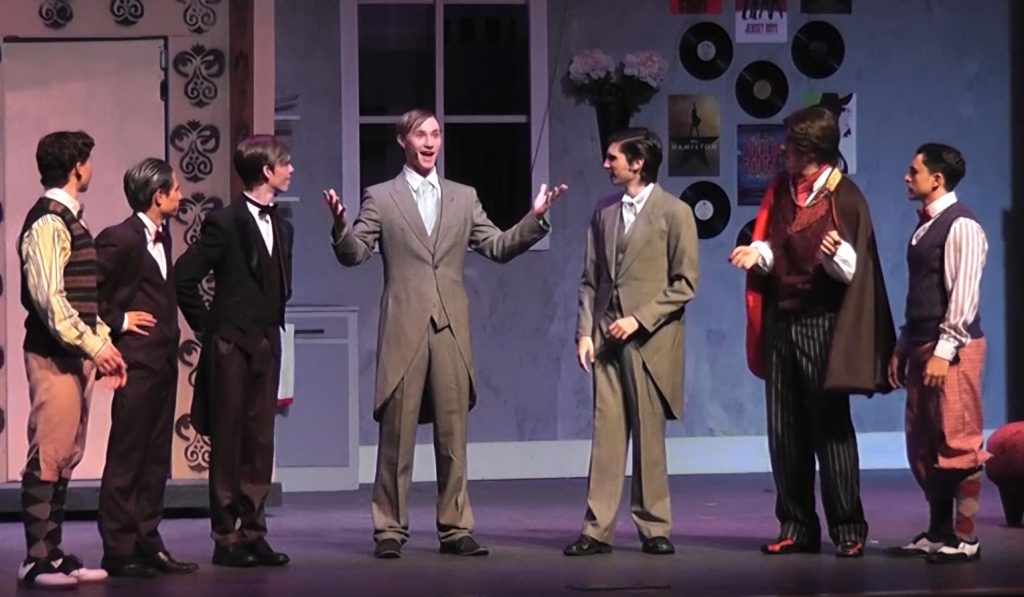 The two gangsters were played by Alejandro Quinones and Mateo Morales and their chemistry was evident on stage. Quinones, a skilled piano player, has taken to musical theater with vengeance. He went from zero to hero in a short amount of time with his dancing, singing, and acting coming from constant and hard work. And it showed.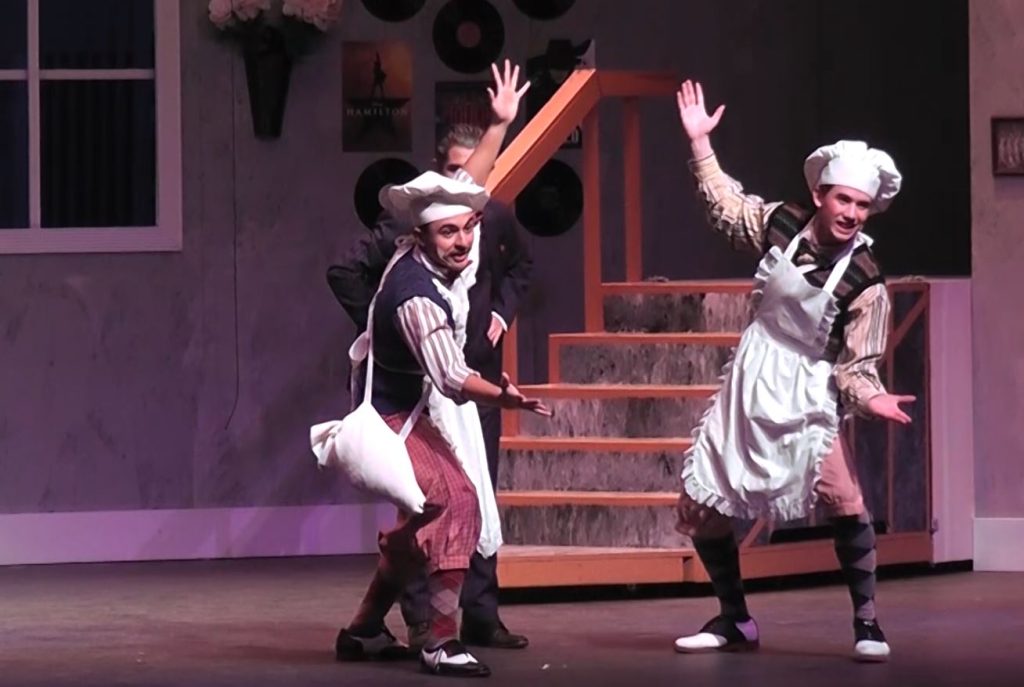 The Superintendent, played by Rory Whitten II was played in a deadpan style that at the end of the musical, was pivotal in that it was the only other "real" person in the entire musical. Whitten II, a senior, has been in many productions and his experience showed.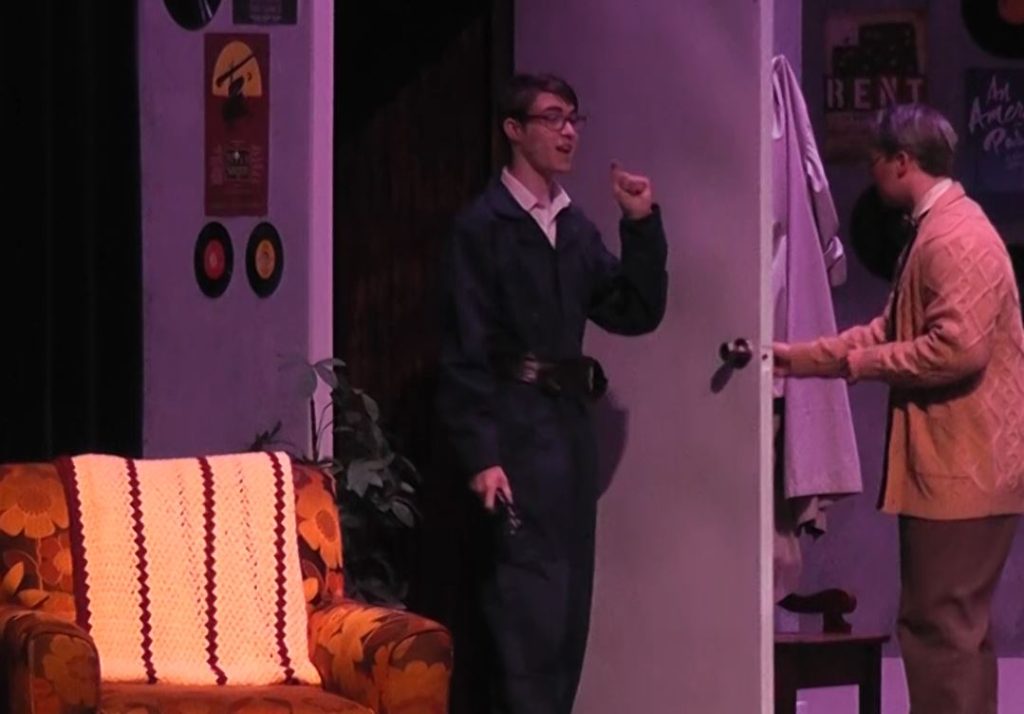 Emma Maass was pivotal as usual adding her powerful soprano voice and dancing to the ensemble along with Claudia Hammes who was the dance captain for the group. Sofia Vega, a senior in her last musical, is a hard-working actor whose singing and dancing have improved tremendously over the years.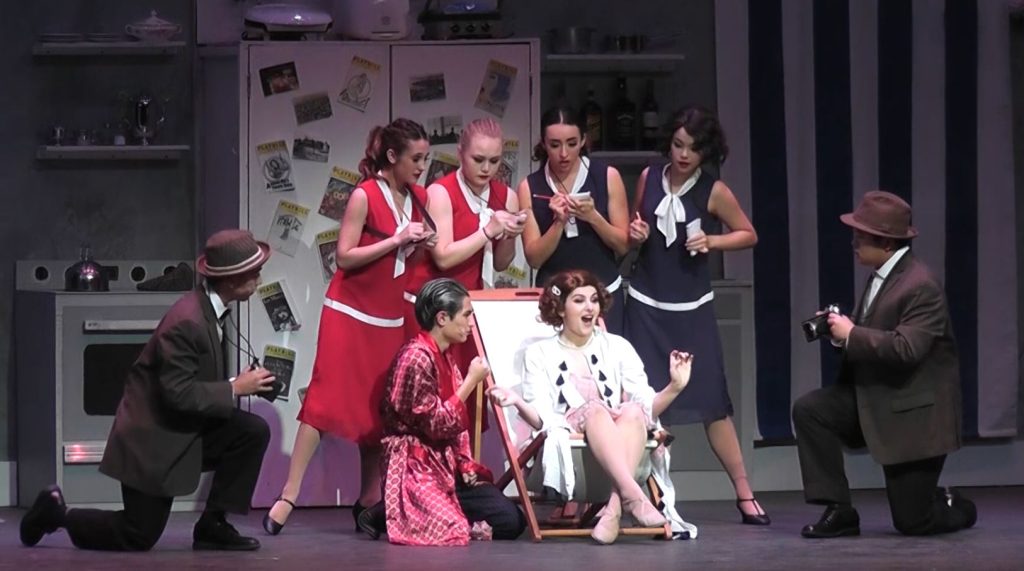 The outstanding ensemble featuring top-notch dancers and singers was rounded out with Delaney Dalton, Nisa Guvenilir, Layla Dahan, Isabel Mayen, Sofia Overa, Patlande Brutus, Julia Di Piazza, Maggie Gieson, Victora Mullings, Ella Chihom, Andrew Lavelle (who caught the hat 3 out of 4 nights!), Ernest Cassis, Sophia Mcfillin, John McNulty, Ava Austin, and Yulianna Rivera.
Pit Orchestra
The Pit Orchestra, conducted by the theatre director Stephanie Nixdorf added live music for the musical and was a joy to listen to. Their synchronization with the actors on stage was impeccable, never missing a beat during four performances over as many days. Orchestra director Jenn Girdlestone, pianist James Nixdorf (husband to the director), and several other adults were welcome additions to the Boca student musicians who played the many catchy tunes that I still find myself humming to this day!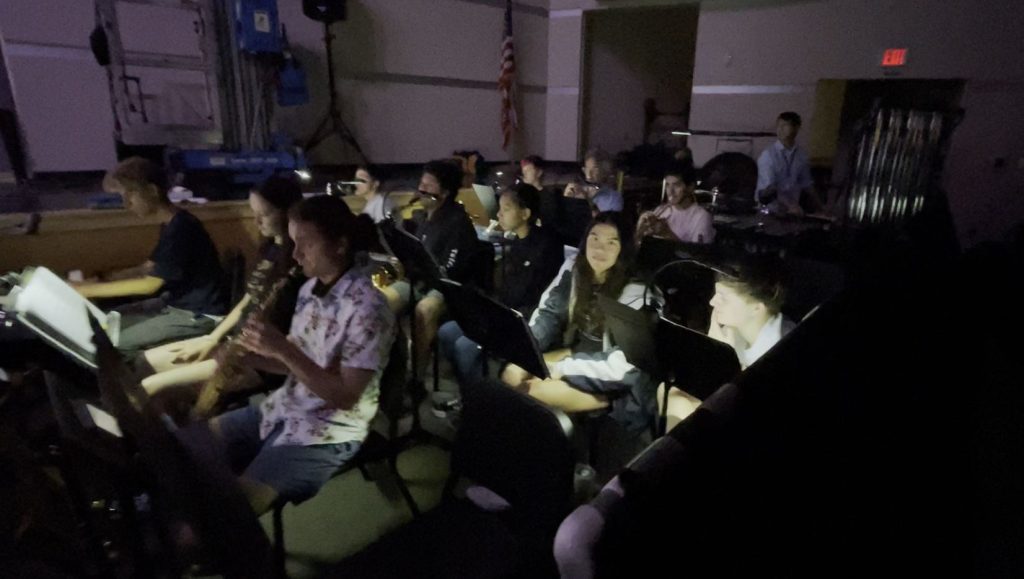 Conductor/Music Director: Stephanie Nixdorf
Orchestra Director: Jenn Girdlestone
Piano 1: James Nixdorf
Piano 2: Ryan Vladimir
Drum Set: Gabriel Rangel
Percussion: Alex Mirenda
Bass: Mars Ramdeen
Flute/Piccolo: Ethan Geyer and Anais Chancy
Clarinet: Julia Yu, Fiona Froggett. Alexis Merino,
Aidan Cherniavsky, and Noah Berdugo
Saxophone: Noah Berdugo. Jessica Garcete, and Alexis Merino
Bass Clarinet: Aidan Cherniavsky
Trumpet: Tom Stancampiano, Collin Jenness, and Zoe Fernandez
Trombone: Dana Volfe
KeyboardTek: Ethan Lubin
The Crew
The technical crew, set design, and construction created the set, props, costumes, lights, and sound that worked so well, that audience members were swept away with much very believable physicality that was all student-generated. The sets and costumes were done by the crew and I was especially impressed by the large set which was 100% designed and built at Boca High. From the backdrops, to the moving set pieces like stairs and doors, and even a murphy bed, the set transitions by the crew and cast were flawless adding to the delight of the production.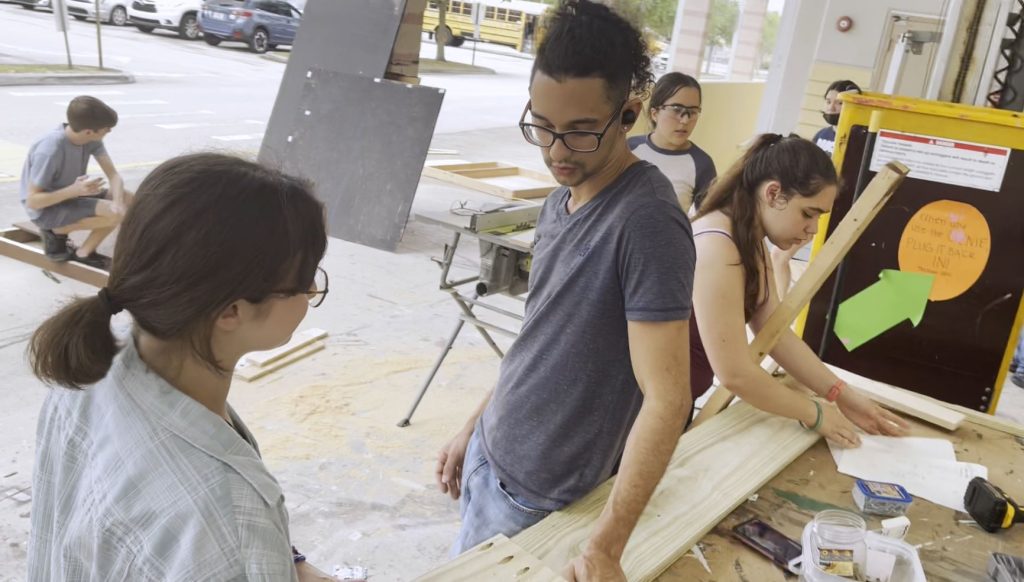 Here is a list of those on the crew – those "unsung heroes". Bravo to all!
Stage Manager: Marisa Figueras
Assistant Stage Managers: Freddy Cycholl & Lacy Whitten
Dance Captains: Connor Austin & Claudia Hammes
Set Design and Construction: Kristian Papke, Sean Powers
Lighting Designer: Don Tolj
Sound Designer: Jeremy Levannier
Costume Designers: Shannon Walsh, Maria Corderio
Technical Directors: Grace Centamore & Cali Liebermar
Props: Ally Rodriguez
Lighting Technicians: Brooke Maggard, Samantha Toscano, Julia Dodge, Eiva Tinney
Sound Technicians: Mary Page-Hoffmann, Kat Sigalos, Bella Pazera, Alejandra Hernandez, Gabriella Oriscar, Logan Neadel
Hair and Makeup: Talia Evans, Isabella Welch, Gabriella Pardee, Jennifer Huerta, Alex Munguia
Costume Crew: Rylee Kruse, Zoey Wichert, Eva Bellone, Alyssa Feige, Yumna Sweid
Build Crew: Joao Andrade, Angelica Hanley, Renata Hanley, Marjury Lapaix Corporan, Apria Miller, Lala Aleksanian, Grayson Caffrey, Parker Neville, Ivy Morgan Hill, Briana Ojeda Ary, Sophia De Almeida, Valentina Rincon, Gustina Tamburo, Nicole Ojeda Ary, Yosthinn Cuitiva, Mark-Louis Forne, Caleb Gomez
Props Crew: Abby Miller, Ariel Hickman, Duru Ada, Natalia Suarez, Aimee lhapley, Kayla Soufleris
Publicity: Delaney Dalton, Sofia Vega, Freddy Cycholl Videographer: David de Hilster
Program Designer: Caron Morton
Poster and T-Shirt Design: Sofia Vega
The Directors
This is Stephanie Nixdorf's first musical as a theatre director at Boca High. But this is by no means her first rodeo. Nixdorf was choral and music director at Suncoast Community High school for almost 12 years where she produced and directed two full-length productions each year. There she took a program from zero to hero honing her skills of pulling out great performances from her students, many of which never appeared on a stage before in their lives. In her first year as theatre director at Boca, Nixdorf had to quickly access her talent without knowing the students. Her first production "Radium Girls" garnished the Drama Club's invitation to the state Thespian competition where it earned a "superior" rating in the one-act category. Drowsy quickly followed and with a small window between state competitions and opening night, it managed to produce an audience-pleasing, technically sound, and amazingly fun production which was sorely needed by everyone given the heaviness of the past few years. I only heard praise from the audiences each night and comments on how talented the kids were. And the great thing about this musical, it allowed a large number of the cast to shine – and did they shine!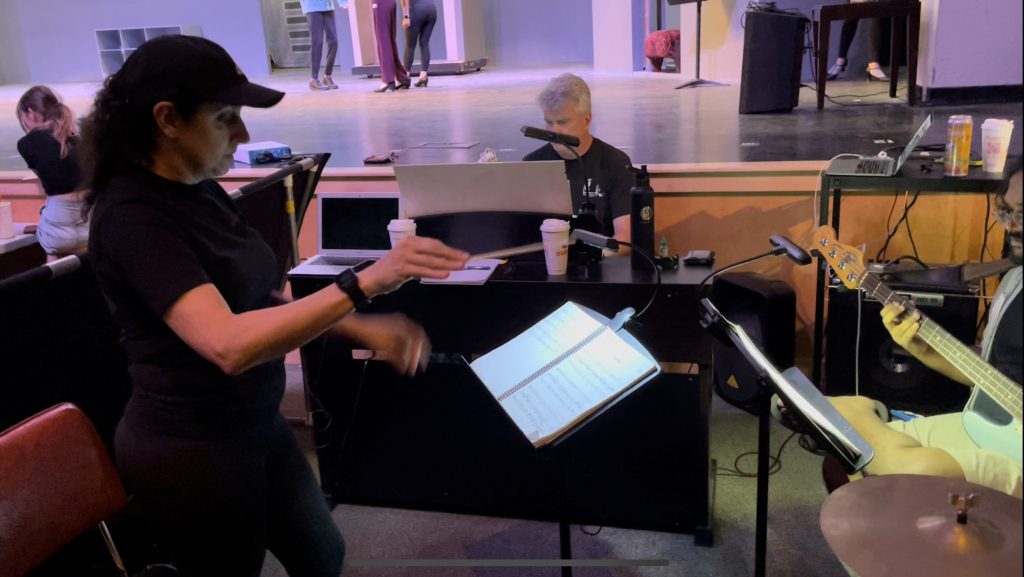 Besides being the director of the musical, Nixdorf also directed and conducted the pit orchestra. Nixdorf is a multi-talented tour-de-force who feels as adept in front of a cast on stage as she is in front of a full musical theatre orchestra while wielding a baton. That's not surprising given she was an opera singer at one time in her career. When watching the musical, it was easy to forget the orchestra was live which is a testament to Nixdorf's directing abilities in keeping the orchestra in step with the live-action on stage.
Jackie Bayne and Jason Gillman
I heard from my daughter how she really loved working with Jackie and Jason. Working in past years with choreographer Angela Taylor, the students have been used to a high-level of dance routines for Boca High musical numbers. Bayne and Gillman didn't miss a beat. The dance numbers were a total delight allowing for those totally new to dance to look their best as well as highlighting the amazing talent of those more seasoned with dance. From the rousing full-cast number "Toledo Surprise", to the technically difficult number "Cold Feet", to the complicated special-effects-filled number "Show Off", Bayne and Gillman took the entire cast and made them look good and feel good and have tons of fun in the process.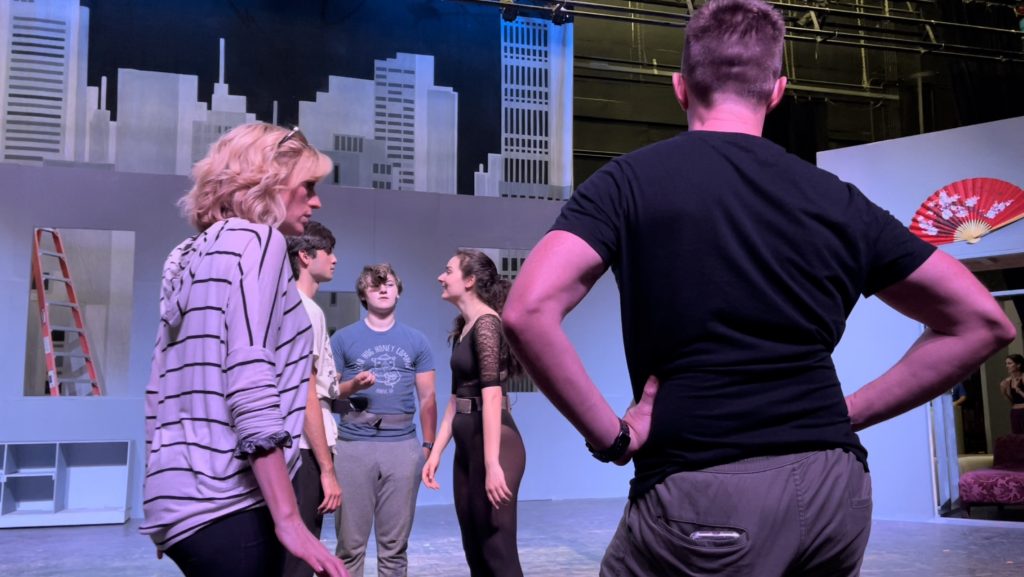 Many Boca theater students will be participating in Bayne and Gillman's 3-week intensive at the Kravis Center for the performing arts in July of this year. It is a great program for those students wanting to immerse themselves in everything Broadway. Auditions are still being accepted.
Students also traditionally participate in an intensive theatre program locally in Boca at the Taylor Made Intensive in June Intensive where the students hone their skills for next year's coming productions.
As you can see, there as many opportunities for students to improve their craft over the summer.
Other Notable Directors
Marisa Figueras, a senior, directed her last stage production. An experienced veteran of the stage, Figueras was the glue that held many a Boca production together through the trials and tribulations of live theater. She is loved by all the cast and crew and will be sorely missed as she departs into the university world full of hope and talent.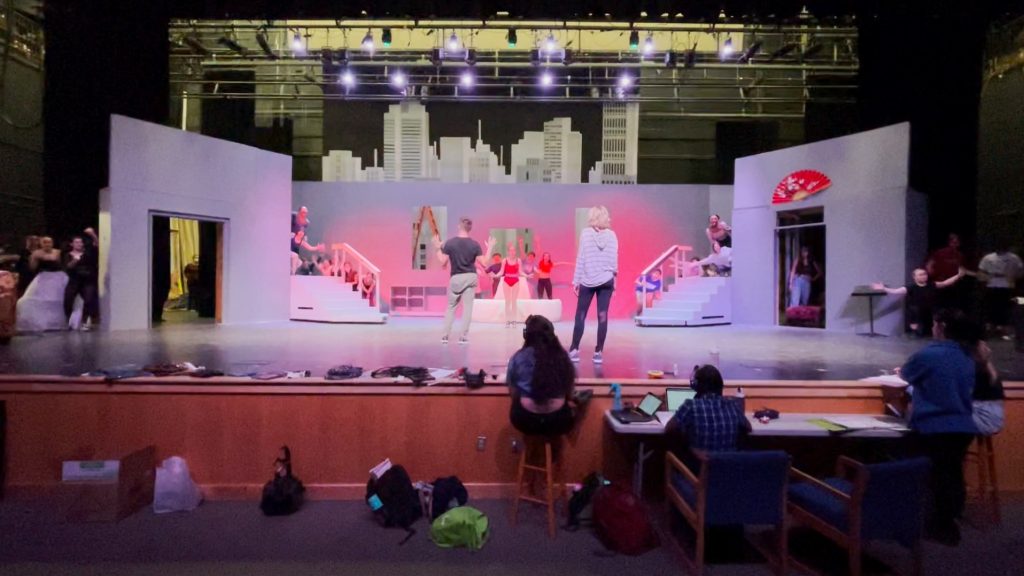 The sound and lighting were top-notch with veteran lighting designer Don Tolj and sound designer Jeremy Levannier at the helm. From spots, to stage lighting, to a complete simulated "blackout", these pros made people appreciate the craft of lighting and the entire lighting crew had it completely under control. And if you think sound is easy, try balancing miced actors with a live orchestra and you will know that Levannier and his entire sound crew hit it out of the park.
Lauren Rizzo, choral director at Boca High also had her work present on stage in the form of beautiful lyrical songs and booming choral numbers that truly roused the spirit of the audience. As I have said many times before, my favorite part of musicals is when you have a full stage with everyone singing in choral harmony. There is nothing like that in theater and certain Rizzo did her job once again in Drowsy.
What's Next
Nixdorf's first year at the helm of Boca High Drama Club was a complete success at multiple levels. She cultivated a new generation for the coming years and used the extraordinary talent she had quite astutely. She now has a growing group of actors, dancers, and singers that she will be the basis of many great plays and musicals for many years to come.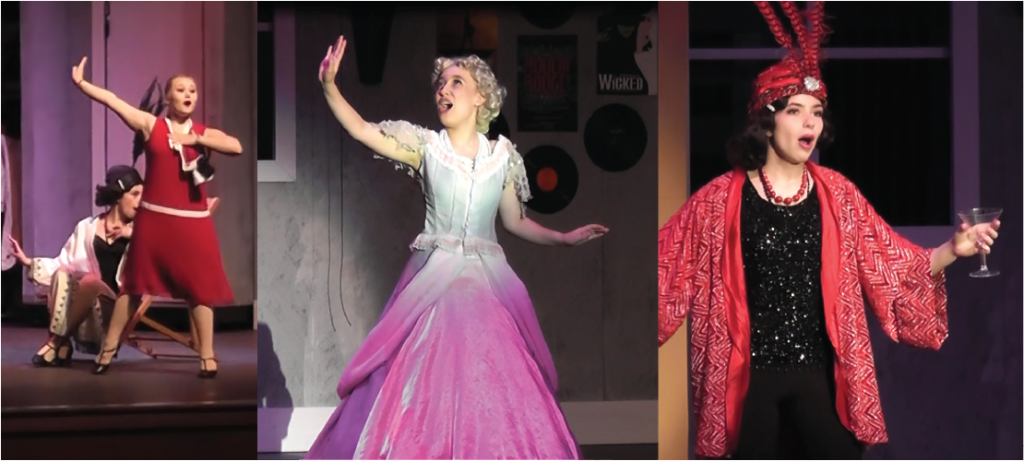 But Nixdorf's head must be exploding with the possibility of next year's production containing a triplet of senior triple threats: Emma Maass, Sarah Lash, and Luanda de Hilster. All three are being cultivated by Angela Taylor of Taylor Made Studios in her college prep program where triple threats learn their craft while being guided through the gauntlet of musical theater college auditions. With Maass' energetic exuberance, Lash's angelic voice, and de Hilster's all-around natural talent, combined with the talent Nixdorf herself has cultivated this past year, next year's productions have everything they need to be even bigger than this year. Knowing the director's never-stopping-always-scheming-vastly-creative mind, this author can't wait to see what's in store for next year's productions!
Conclusion
In the end, talent is great and this cast had bucket-loads. But one thing this author has learned on the stages of life is that if actors, cast, crew, and musicians are having fun, the audience will fall in love with what is on stage and that is exactly what happened for four glorious nights at the Kathryn Lindgren Theatre this April. It was truly a joyous occasion for all!
At a time when war, the economy, and health problems are topping the nightly news, Nixdorf's astute choice of doing Drowsy as this year's musical was a welcome reprieve from life's hysteria. Drowsy reminded us that dancing and singing and a hugely funny story can transport an audience to a much happier place where we forget all our problems and just sit back and enjoy the ride.
The man in the chair gave us all an immense gift reminding us that it is only through the arts that the human spirit can transcend all and show us the best side of exactly what it means to be human.
Bravo everyone! Can't wait till next year…
(Click on the photo below to watch the Saturday performance in its entirety)