Covid was a disaster for Musical Theatre around the world. The entire industry shut down. Actors moved away from Broadway. It really seemed like Musical Theatre was in danger of collapse.
In Boca Raton, it was no different. My daughter Luanda de Hilster who just earned her first lead a commercial production of the musical "13", was now faced with seeing the role she worked so hard to win disappear. But it was no different for any other musical theatre actor.
Lemons
Taking over the reigns of one of Florida's most successful high school drama clubs previously run by Tia Mapes who helped win prestigious theatre awards during her years at Boca High is an already daunting task. Now add Covid on top of that, a sane person would have run away screaming. That is what Boca Drama Director Skye Whitcomb was handed at the start of the 2020 school year. It is already a daunting task to take over from Mapes, but to now try and keep musical theatre alive at Boca High and give the drama students a "memorable" and "educational" experience with Covid? Well let's just say: GOOD LUCK!
After all, our family like many moved into this area of Boca for the theatre programs at Boca Middle and Boca High and to have this happen in my daughter's sophomore year, let alone those poor seniors, what do you do?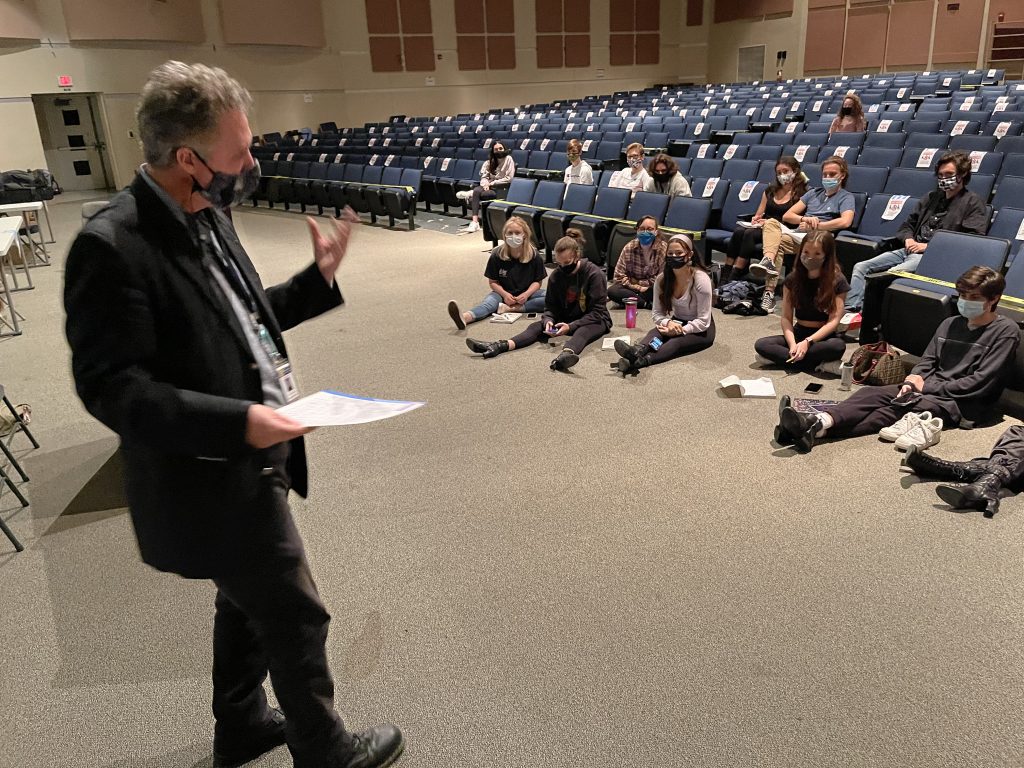 Lemonade
What you do is to roll up your sleeves, take a look at the mountain of lemons in front of you, and make it into one of the most memorable productions in the young lives of a great group of kids. And that is just what Boca High Director Skye Whitcomb did. His dedication to his students only made him more determined to give his students something unique despite Covid.
As luck would have it, the father of one of the students at Boca High, Mark Alfieri, just happened to own BrandStar Television Studios in Pompano Beach, not too far from Boca High. Only Months before, choreographer and Dance Studio owner Angela Moranda-Taylor had put on a live broadcast Christmas show at BrandStar and it was a great success. Whitcomb saw that he could do the same with this year's Boca Drama productions.
With BrandStar studios and an extremely talented cast and production team, Whitcomb could continue the amazing musical theatrical productions at Boca High while giving young men and women an opportunity of a lifetime: to be part of a live broadcast musical in a real television studio. And that is what happened.
One of the most common comments I heard from students about this year's production of Jekyll & Hyde is that they felt "so lucky" to be part of the production this year. That's pretty amazing given the fact of the level of productions put on at Boca High in the Kathryn Lindgren Theatre which rivals some of the best theaters and stages in Florida. Green screens, cameras, camera angles, working live in a studio environment – these are invaluable experiences for young talent to have on their resumes as they move forward to their careers beyond high school. It may even change the trajectory of some student into an area they would have never found without this experience.
The Musical
The choice of musical this year took everyone by surprise except for its director. Skye Whitcomb with his extensive experience in theatre knew exactly what talent he had and how to use it. And luckily for everyone involved: it was Jekyll & Hyde.
And of course, there would have to be a Jekyll & Hyde lurking in the ever-renewing talent pool of actors at Boca High and there was an obvious choice: Calvin Zanetti. Although there were the normal auditions for the production, Whitcomb knew Calvin Zanetti was a natural for the role. There were also obvious talented choices for the leading ladies who played opposite of Zanetti who were naturals for the complex parts and many song and dance numbers that Jekyll demands of its cast.
The musical was chosen and as has been with all Boca High Productions, that cast was talented, hardworking, and most important: a loving team.
The Main Character
I first met Calvin in the middle school production "Seussical" where he played the Cat in the Hat. He was a tallish, thin actor who was always drawing things. He once showed me his drawings and I asked him if he wanted to be an artist. He surprisingly said "oh no, I want to go into movies, and directing, production. Musical theater is my roots but I have bigger plans". His ambitions were quite large at an early age and I saw a real dedication to his craft. He seemed to live it and at times could not understand why others were not the same way. Well truth is, Calvin ISN'T like the others and that is what makes him unique.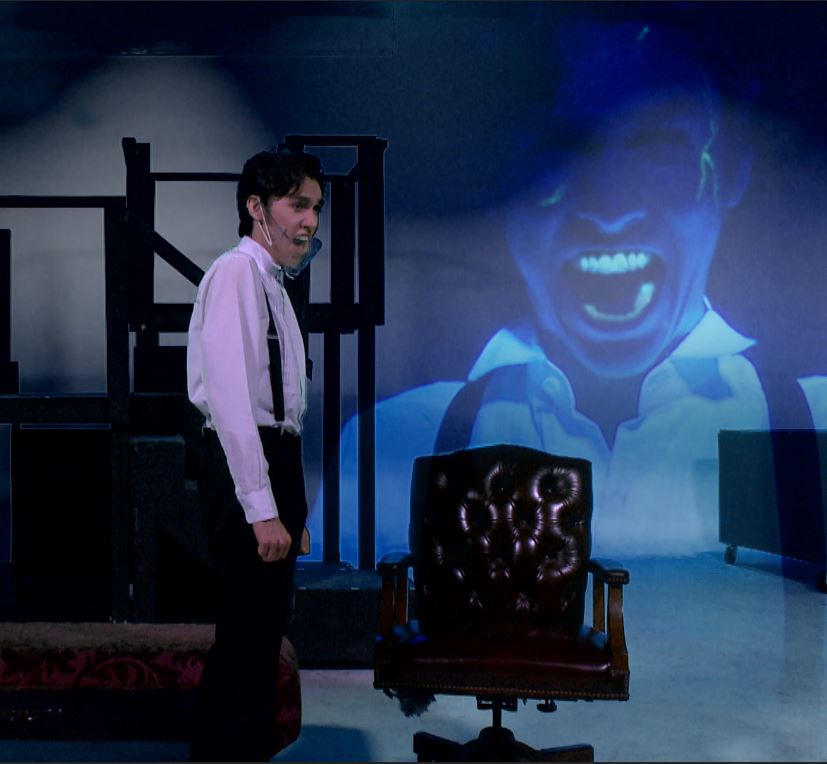 I next saw Calvin in two other productions in his junior year, as Buddy Layman in Diviners, and Amos in Chicago. I got to really see these performances up close given I was the main videographer for both productions and Calvin was a standout in both. As Buddy Layman, Zanetti played a "specially gifted child" who was a very complex character that had to go from a slow, tantrum-filled child to a water diviner and Zanetti played it brilliantly. You knew watching the production that very few actors could pull this character off and Zanetti did not disappoint.
As Amos, Calvin once again stood out in the production of Chicago. It was in my humble opinion that his rendition of "Mr. Cellophane" was the best performance in this brilliant production by Tia Mapes with choreography by Moranda-Taylor. It was as professional as professional could be and at that moment, Zanetti could have easily been on off-Broadway and no one would have batted an eye.
It was not surprising that director Whitcomb chose Jekyll & Hyde because he knew what Calvin was capable of on stage. And kudos to Whitcomb: Calvin made this production and Whitcomb knew this. It was Calvin's show and everyone in the cast knew and appreciated it and supported it with their best efforts – something Zanetti gave each and every rehearsal. I always tell my daughter Luanda: surround yourself with people better and more talented than you and you will get better yourself. And the entire cast and crew lived up to Calvin's winning performance. If there are awards to be won in this year's musical theater in Florida, Calvin deserves a nomination in every one of them.
Zanetti's transformations and internal fights between Jekyll and Hyde were truly believable moving so quickly between characters that you truly believed the actor to be schizophrenic. It is obvious that Zanetti gave all to this performance at all times. To this author, the highlight of the entire musical was the song "Confrontation" where Zanetti acted live between two recorded versions of himself- one as Jekyll and the other as Hyde. It was truly a marvel to see both visually and viscerally.
Zanetti has what it takes and his future success in the entertainment industry is certain.
Heroines
The heroines of this saga were perfectly matched to the characters of Lucy Harris and Emma Carew. Faith Alfieri who played Lucy Harris, has a mature Broadway voice and danced, sang, and acted in a part that demanded belting during raucous dance numbers, to quiet tearful ballads that got me every time I saw her sing "A New Life". Her control of emotions, volume, and acting hit a chord with everyone who watched and she was the consummate triple threat. And to think she is only a junior is crazy.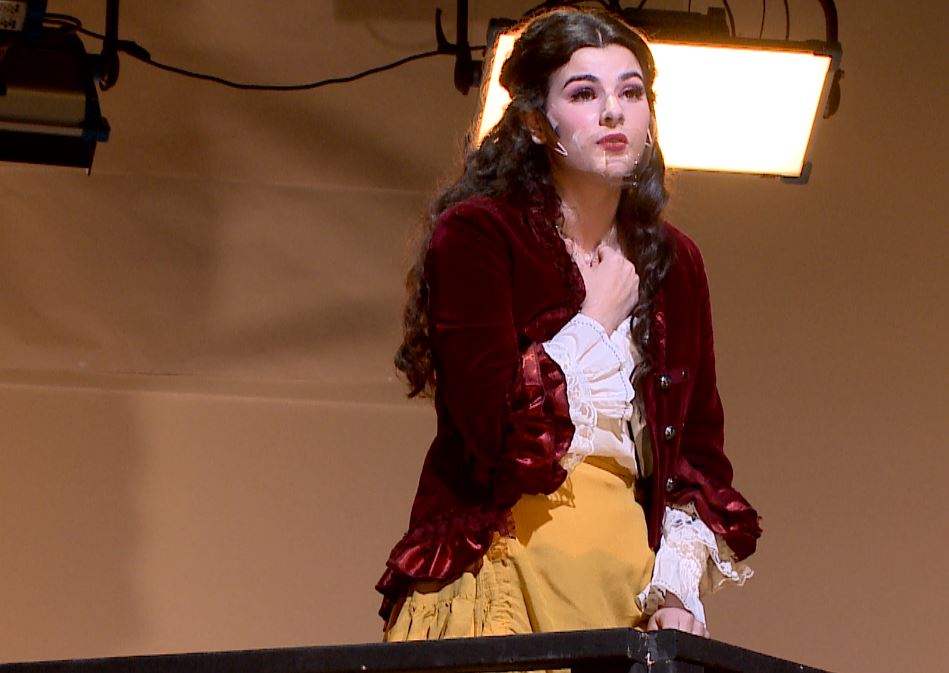 Samantha Barnes played the sweet and aristocratic Emma Carew. Barnes is a dancer first, but now becoming a strong triple threat and coming into her own as an actress and singer. Her lyrical voice hit a high note during a quartet piece that could have shattered glass. She held her own in a duet with Alfieri and showed she belonged in a principle part in a demanding musical. Her acting and dance moves were smooth and beautiful and she gave a commanding performance.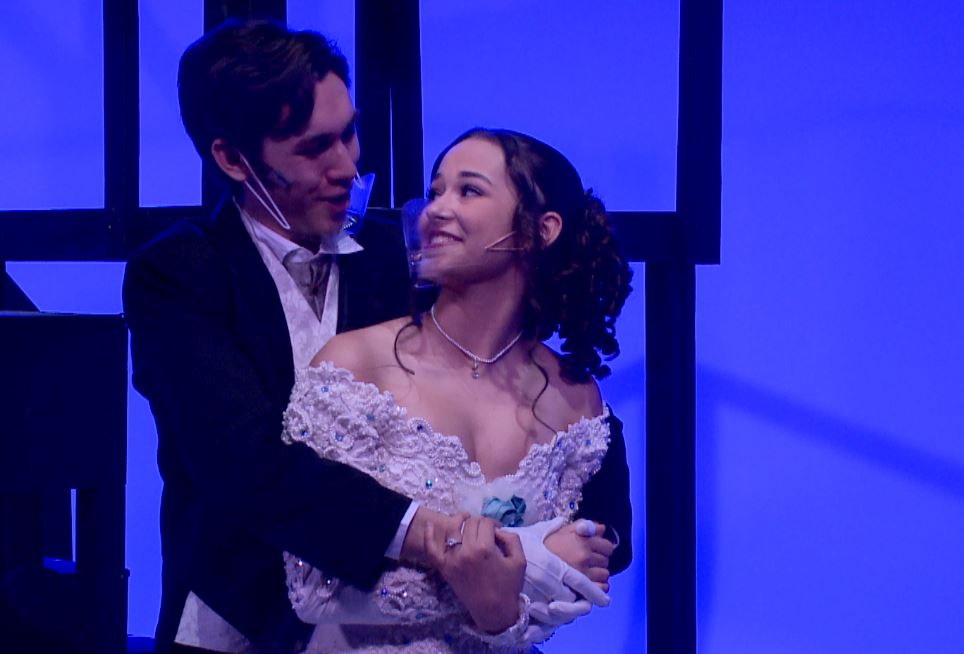 Understudies
Director Whitcomb gave the understudies the gift of doing their own performances and from my vantage point of the video recording team, didn't change the quality of the production one iota.
Gianna Downing who moved from Nelie to the main character of Emma Carew, showed that she could play the principle part at the high level needed for this production. Her voice, her acting, and her demeanor was perfect for the part and both Zanetti seemed as comfortable with Downing as he did with Barnes.
Jacqueline Navarrete, a Red Rat Dancer moved to the role of Nellie and again, fit in as if she had done this role as a principle. Beautiful job!
Supporting Cast
The supporting cast was cast (although the term is often overused, it is not overused here) to perfection.
John Utterson was played by Aidan Molamphy played close friend and counterpart to Zanetti's Jekyll. As the friend who has to commit the ultimate act against a friend in the end, Aidan showed his maturity as an actor and singer playing Utterson in all poignant moments from holding the crying Jekyll, to his outrage at what obviously was not the same man they called Hyde. His concern for his friend, whether it be not doing something stupid in the Red Rat, to witnessing first hand Jekyll's transformations, Molamphy was spot on with the character and really held up to Zanetti's opus performance as Jekyll & Hyde. Bravo!
Sir Danvers Carew, played by Eryk Dewire who is maturing as a musical actor (lucky for Boca High Drama), gave a great performance and has one more year to continue improving his craft before heading to the next level. He played the role with the correct acting tools for such a noble character and was a great addiction to the cast. Seeing him practice and then live, he has the rare and envied characteristic to do his best in front of a live audience. Once he breaks free from his quiet demeanor, watch out!!
Brian Lukas, a senior who played Simon Stride, despite sustaining a compound fracture in his left leg playing soccer two weeks before opening night, braved it out, opting not to use a period wheel chair that was available to him offstage if needed. Instead, Lukas appeared onstage for the live performances with only a cane and a removed cast! That's dedication to your art!! His performance during the court scene was phenomenal with powerful singing and acting that resonated during some of the most tense moments of the musical. He then showed his versatility when ending the same scene, moving back to a very flippant and jocular mood when pronouncing the verdict for Jekyll. Outstanding from this actor.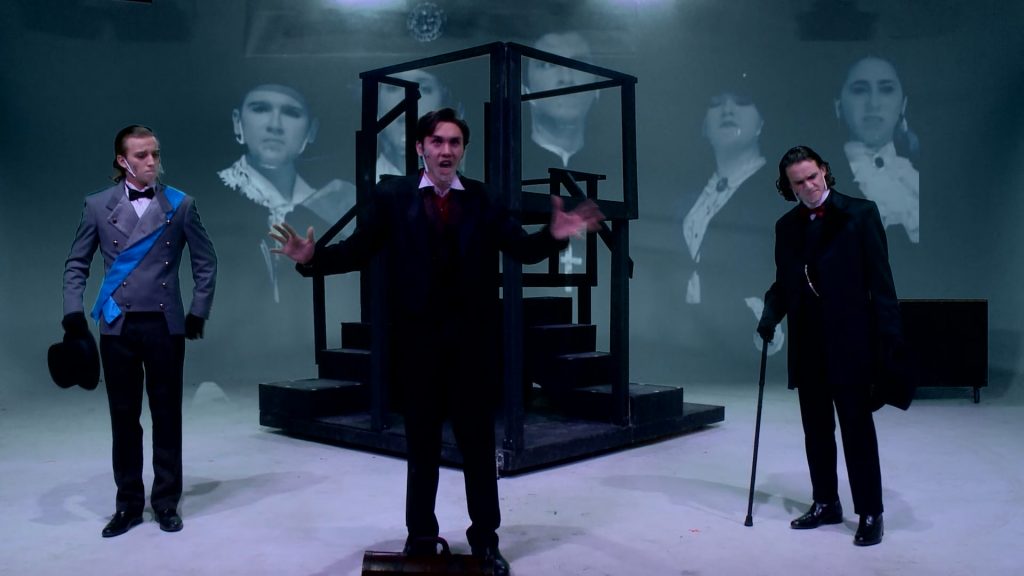 Lady Beaconsfield was played by none other than Sabrina Marks, a senior at Boca High. As Whitcomb put it, she was an outstanding "delightful villainess" (as relayed by my daughter Luanda) onstage. Although Beaconsfield's life was on short in front of the audience, Marks most certainly made the role memorable with her great acting choices and beautiful voice.
Maia Martinez played Lord Savage and showed her acting skills. She is one of those rare individuals who is truly a "character actor" who thrives on understanding the character through and through in order to give truly professional performances and she did not disappoint.
Niko Zontini was back for his senior farewell performance and boy, did he go out with a bang! Zontini, who played at least four parts in the musical, shined brightly or should I say "darkly" in his role as the Red Rat's violent and scary task master Spider. His deep voice, tall and lanky dark look was "vader-like" in its interpretation and really showed the actor's versatility. He has a "look" that really could take him forward to the next level.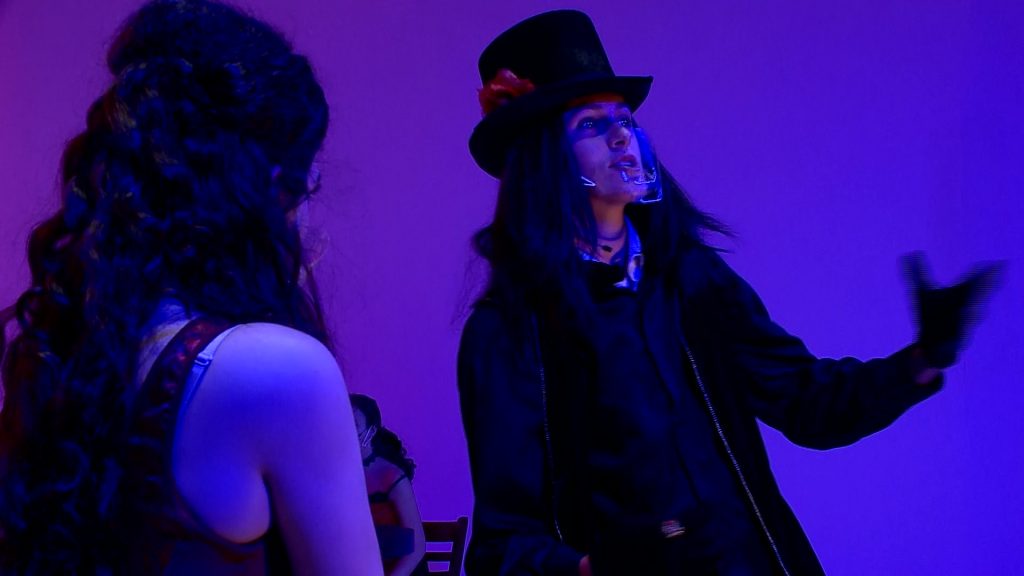 Red Rat Dancers
Emma Maass, one of the Red Rat Dancers had a number of small solos using her beautiful soprano voice which could be heard hitting super high notes during ensemble chorus numbers while being a well-trained dancer. She has a vivacious nature that is obvious in her work and it is a delight to see her on stage in all her capacities. Maass is only a sophomore which is pretty astounding and great news for Boca Drama's future.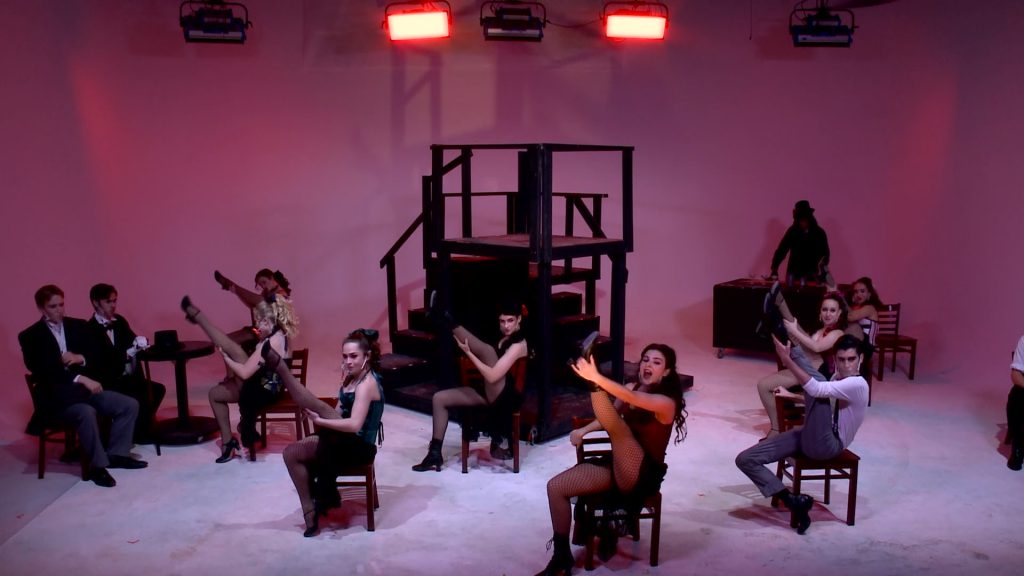 Connor Austin, who also played a bishop and was part of the jury and only a junior, was a powerful actor and dancer showing his true versatility and ability as a triple threat. His is a Junior and will certainly be back bringing lots of experience, energy, and talent to the Boca stage. His future looks bright.
Jacqueline Navarrete, who was also an understudy for Nellie, was in step with all the dancers and showed how she too could do it all. Her dancing and singing in the ensemble was spot on and brought a unique energy to the production which benefited greatly from her participation.
Sofia Vega played the part of Poole as well as a Red Rat Dancer, having several dialogs and singing spots during the performance. Now a junior, her maturity as an actor, dancer, and singer are all moving forward and like so many juniors in the production, will bring much needed talent to next year's musical production.
Summer Severin, a dance captain and senior this year is of course a true veteran of Boca High Drama. Last year she knocked it out of the park with lead roles in "Children of a Lesser God", and "Chicago" – all as a junior. Her acting with American Sign Language in "Children of a Lesser God" was awe inspiring and an opus performance for Severin. Her ability to become a truly deaf person both in signing, demeanor, and even in her convoluted vocalizations was simply extraordinary. And it was a LONG production, and she pulled it off to perfection. And if that was not enough, Severin then landed the role of Velma Kelly in Chicago also in her junior year and sang and danced as if she was already on Broadway. You are not supposed to be able to do all this as a Junior – all in one year. But she not only did it, but showed she has a bright bright future ahead in college and beyond.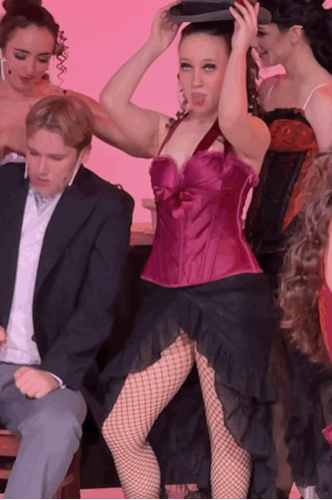 Luanda de Hilster, another Red Rat Dancer showed her vastly improving skills as a dancer and a singer. Born with a powerful voice and natural ability to act, move and dance, de Hilster smashed onto the Florida musical stage at 11 with a booming voice playing the Sour Kangaroo in the junior musical Seussical. Having played in commercial productions of Rent, Heathers, and landing the lead in the musical "13", de Hilster danced and sang her way through Jekyll and Hyde with a new found maturity well beyond her sophomore years. Even in her only singing solo in the production, her 7 second singing solo rant towards Jekyll was a thing to behold and those who know her, know what they are looking at. Watch out folks, de Hilster returns for two more years and that can only be good for future Boca High productions.
Crew
The crew as always did a monumental job considering that in addition to prop building, furniture repurposing, and moving props in an out at the right time, they had to disassemble the main rotating prop and reconstruct it in the TV studio. Lead by set designer Jordon Armstrong, the team constructed an elaborate rotating platform that was the main prop for this year's musical and it was not only quickly assembled onto the television set, but it was rotated during the entire production with stage crew hiding onstage during the live performance and numerous times rotating the platform full of people getting a workout that would envy an ironman triathlete.
Jekyll's work table served as a slab for his human experiments, a bar for the Red Rat, and Jekyll's work desk. There was also blood to be splattered just out of shot of a murder scene as well as putting out sandbag which Jekyll promptly pummeled as one of his "off camera" victims. Tech was all over the stage during the production moving mirrors, props, both onstage and behind the scenes. It went off without a hitch.
The crew as lead by stage director Marisa Figueras and assistant Cidenna Smith accompanied by Grayson Caffrey, Nathaniel Calandra, Freddy Cycholl, John Dietrick, Andrew Lavelle, Cali Lieberman, Isabel Mayen, Ally Rodriguez, and Letizia Santin. Kudos to all of you!
Choreography
This year's choreography had three student dance captains that put in more work than expected when the production's head choreographer took ill for some crucial days before opening night. Samantha Barnes, Jacqueline Navarrete, and Summer Severin did an incredible job at putting the dancers and ensemble through their paces while allowing for open discussion by all on suggestions. There were never any battles between dance captains and the dancers, just battling for the best suggestions and ideas – a true team lead by team leaders.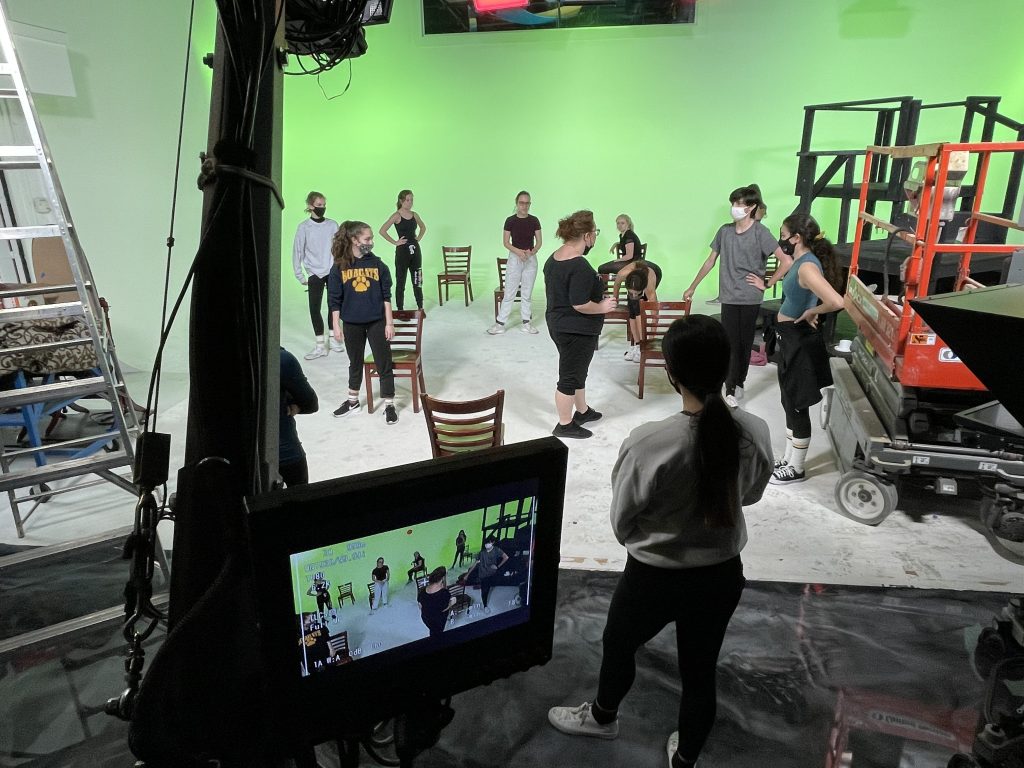 The choreographer is no stranger to Boca High nor to the dancers. Many of the dancers are students at Angela Morando-Taylor's studio and as always, Angela didn't let the dancers slack. The trick this year was to condense big elaborate dance numbers into a stage less than half the size of Boca High's main stage. Morando-Taylor continually reminded the dancers to feel the characters emotions when dancing and to stay "sharp" as former Boca High Drama director Tia Mapes had said during her tenure at Boca High. And the dancers responded. From a scene with umbrellas, to ballroom dancing, to a big cabaret style dance number at the Red Rat, the dancers were spectacular and in sync on a stage that played much bigger on camera thanks to Angela's creative mind that never lets us down. Dance has always been a big part of Boca High Musicals and Morando-Taylor's talent is big enough and then some!
Vocals
One of my favorite parts of musicals are the powerful numbers by the ensemble and full stage scenes. And Jekyll and Hyde did not disappoint. Boca has simply an embarrassment of vocal talent which made the vocal director Lauren Rizzo's job that much easier. But this year, it was not so simple. The offstage chorus could not be offstage in the wings singing like on Boca High's large theatrical stage. Instead, the chorus had a special area where they sang into a live mic that was going live to the television audience. And to top it off, Rizzo had to find space among 3 large cameras and 5 camera operators that were in constant movement in front of the stage. Somehow, she managed to find a spot and direct the cast onstage who needed direction given the playback couldn't be too loud since the sound had to be piped into the live stream.
My personal favorite times during any musical is to hear a full-throated ensemble belting out harmonies with the super high notes from the mezzo-sopranos – this always gives me chills when done right. And I got enough chills during this production to wear a North Face parka! Bravo Rizzo!
Costumes
This being a "period" piece, costuming is never easy given productions taking place in the 19th century have to be elaborate to be believed. The costumes were luscious and gorgeous and were especially under great scrutiny given they would be broadcast in high definition to people watching around the world (and yes, there were relatives and people outside the country watching). Normally costumes are seen from afar by live audience members but this production had full upper-body closeups. The Red Rat dancer costumes were 100% believable and beautiful as well as the gowns for the ball. You could see the cast was really enjoying the realism of the costumes that only enhance their performances the moment they entered the dress rehearsal phase.
And the character costumes were amazing. From Spider's dark with scary silhouette song with orange background, to the Hyde costume and its flowing black shards flowing as evil walked the stage, they were perfect compliments to the story and cast members who wore these magnificent garbs.
Lisa Severin has been doing musical costuming since her daughter was in middle school so it has to be over 5 or six years she has done this. And it showed: this year the costumes were spectacular. She was assisted by Mary Dietrick and Maria Cordeiro who were invaluable in putting in the time and effort to modify, enhance, and fix the costumes that were in constant use and flux through weeks of rehearsals and performances.
Live Video Production
Something completely new this year was the live video production lead by Seth Trucks and manned by all Boca High students. If you watched the live broadcast, there were very few "snafus" and the switching between scenes and cinematography was outstanding for being live and with a new crew – most of whom had never done camera work before this production. With Grayson Caffrey, Aidan Caffrey, Victoria Fondeur, and Cameron Samples working the professional rolling cameras, teams were broken down to two operators: one framing, zooming, focusing, and tilting, and the other driving the large TV camera tripods to the proper spots. Several of the scenes were extremely complex with the most difficult being a murder scene which had to get an extreme closeup of Hyde and follow the body of the heroine onto a bed with the camera moving live and zooming out at the correct time to reveal the blood on the heorine's neck. And they pulled it off for four straight nights.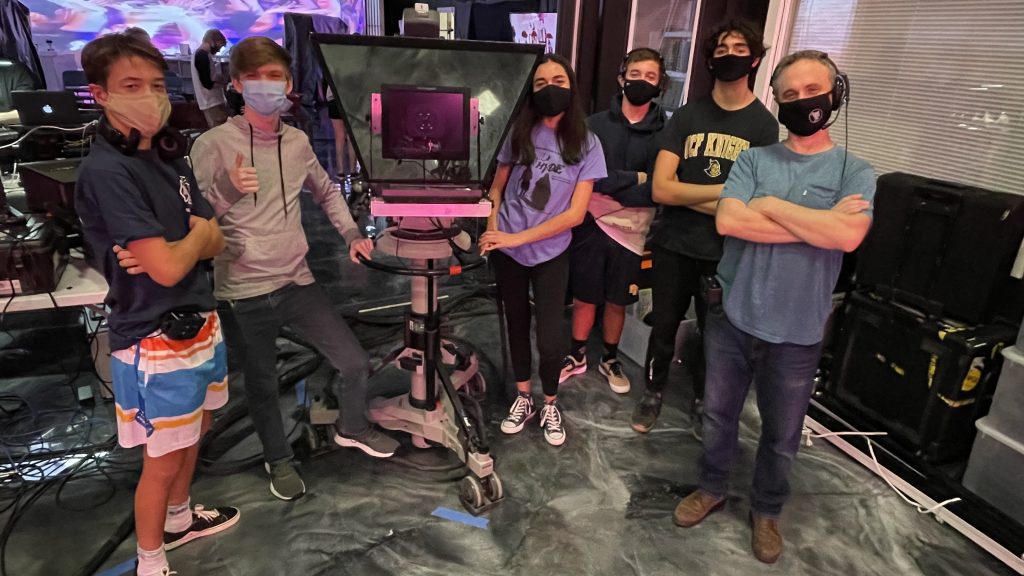 The jib camera was run buy freshman Cole Swisa who within 10 minutes, mastered its controls. Operating a camera on a crane is no easy task and was only slated for an adult to use but it quickly became obvious that Swisa could hold his own and he aced all four shows with some complicated movements on the most difficult camera rig for the production.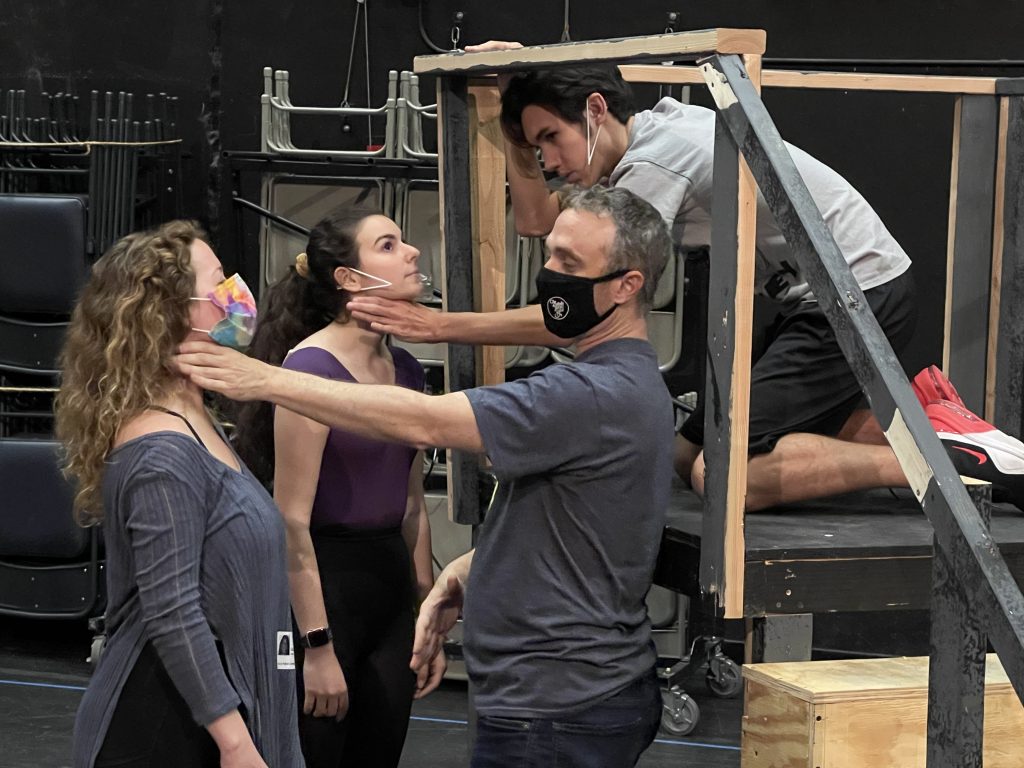 The director of video shoot (which would be the director of the film), was Seth Trucks, a veteran actor, producer, and director from the local area. He was also the fight choreographer which made it convenient given all the "murder" shots in this production, and worked alongside Sarah Grant with intimacy for the actors. I watched first hand as he adeptly gave directions to four cameras during the live production, switch from one camera to the next like a veteran live television director giving the audience an amazing experience despite it being virtual over the internet.
Yours truly was also part of the video design team helping them with the framing and cinematography on how to get the best shots. They filled the frames and the production looked as if seasoned veterans were at work on this spectacular production. I extremely proud of our new "cinematographers!". Bravo!
Sound, Lighting, and Special Effects
The lighting team was directed by Guy Haubrich with the lighting and assisted by the sound design team of Charlotte Joseph, Cameron Samples, and Rory Whitten. It is one thing to do a stage in a theater, quite another to do lighting on a sound stage with a green screen and having to look good on camera. But that is exactly what the lighting team did. From dark morbid scenes with black lights, to changing the lighting for green screen effects, the lighting was truly "Jekyllesk".
Sound was engineered by Josh Horn who worked with miced actors, stage mics, and special mics for chorus, balancing them all to be piped into the live stream and he didn't miss a beat. Not an easy task but (and pardon the pun), it sounded great!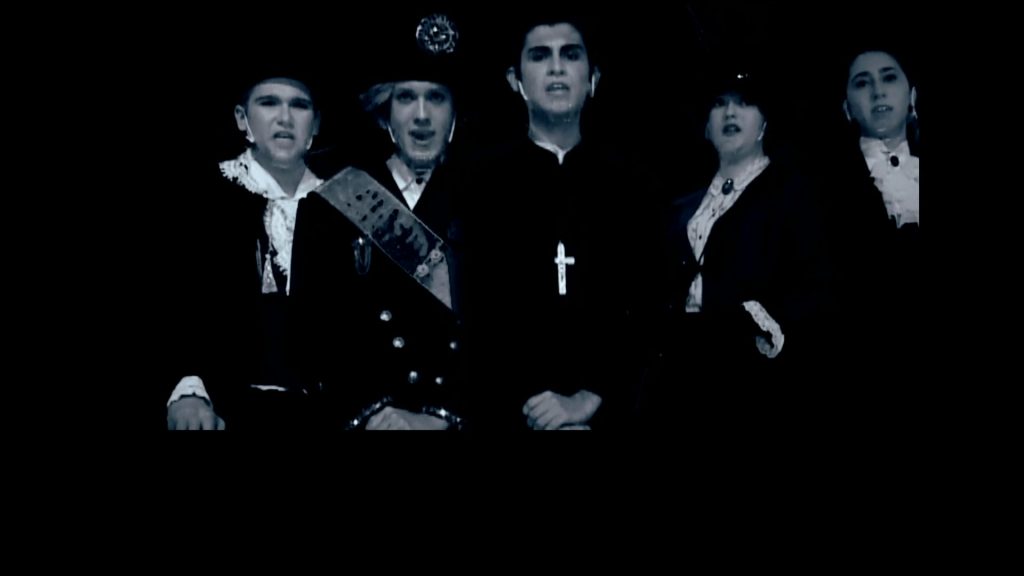 Another important element to the look of the production was what was thrown on the green screens and it truly was awe inspiring. Besides setting the mood with electronic backdrops and colors that added to the production's ambiance, there were two scenes that blew us all away: the jury scene, and the Jekyll / Hyde scene. Both scenes included prerecorded actors on a green screen which were then superimposed onto the scene in perfect position. As Jekyll pleaded his case, the jurors stood behind perfectly in sync with the live scene. But the truly amazing scene was Zanetti's live scene with two versions of himself projected on each side of him where he dueled in song between his Jekyll and Hyde characters. The Hyde character was recorded in black light and was simply magnificent. My daughter's reaction said it all. She pulled her mask down to reveal a wide open mouth in disbelief of the amazing scene. WOW!
Director
Of course, this could not have happened without a director. And for his directorial debut this year was theater professor Skye Whitcomb, veteran actor, teacher, director, and writer. He adeptly chose a surprise musical that precisely fit the cast and simply hit it out of the park. From the comments from my father stating this was a "university level-production", to the cast marveling at what they saw on the live monitors in the studio while the production was live, Whitcomb has to be commended for his vision of what this production could be with the best talents of his current cast, having to do this live on a television stage with cameras for the audience, and all during Covid. After all, many high schools did not even try to tackle a full-scale musical production this year and Whitcomb pulled it off in spectacular fashion.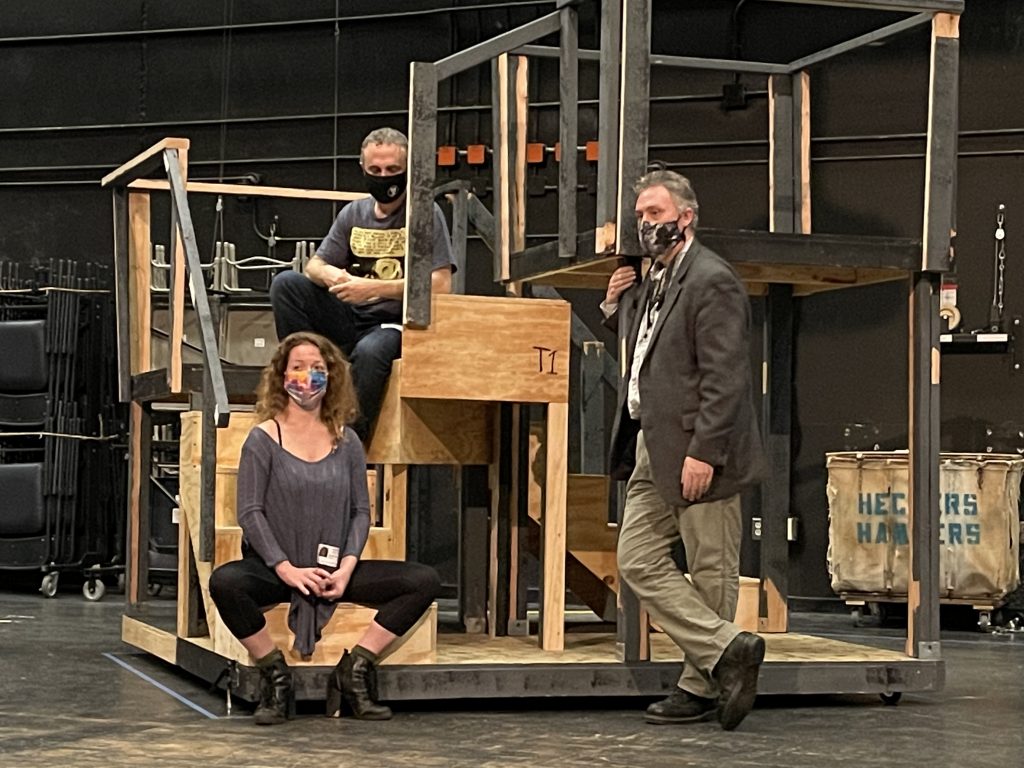 And of course, Whitcomb knows he couldn't direct alone. So he called upon Melanie Almeida, a senior at Boca High, to assist him with this challenging endeavor and he will be the first to tell you it would not have happened without her!
BrandStar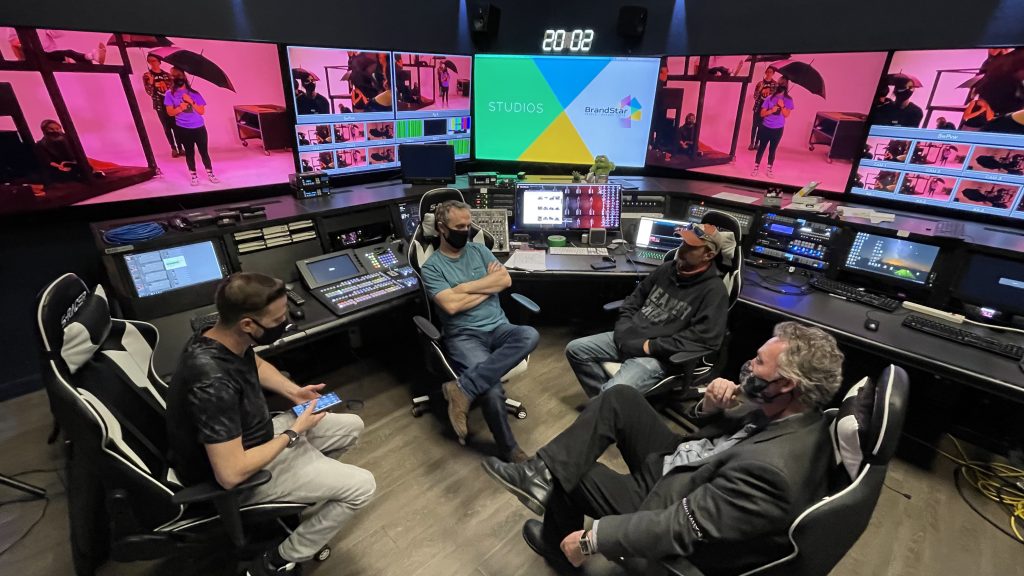 Of course, none of this would have been possible if it were not for the Alfieri's and their team from BrandStar studios. John Long, BrandStar's "sergeant" was always the first to be at the studio, and the last to leave. He worked tirelessly with the crew, helping with the cameras, keeping batteries charged, helping with learning the control room and camera equipment, and everything else needed for a live production. He was the Oz behind the curtain without whom this production could live without.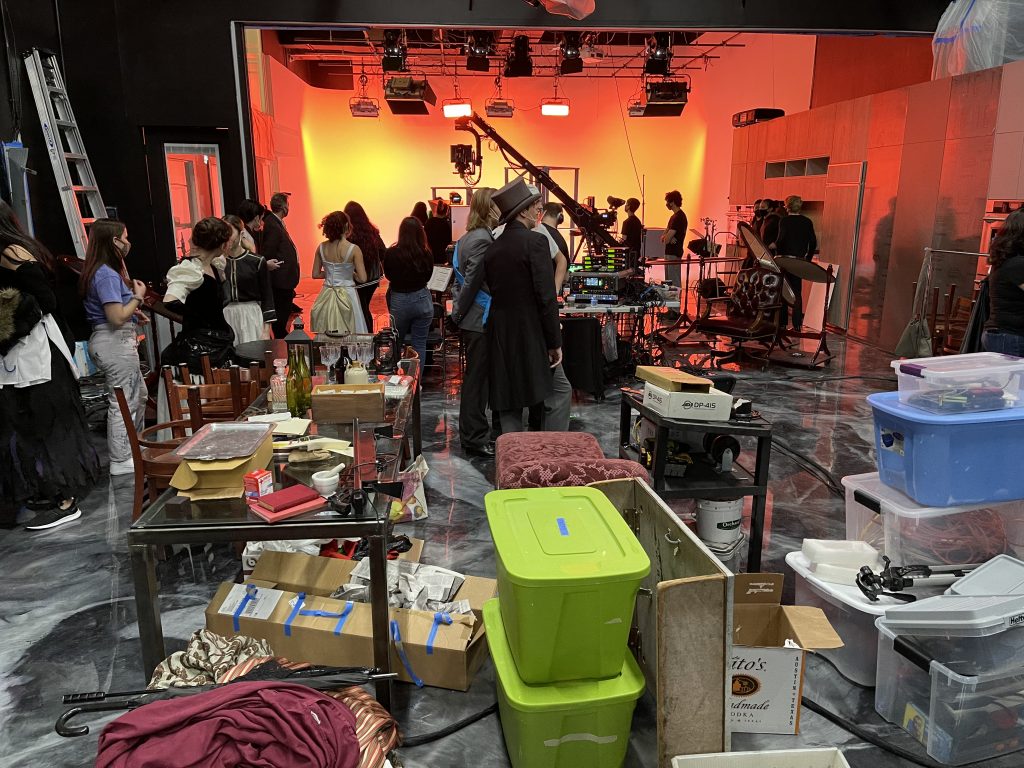 Conclusion
Being a parent of a musical theater student this year could have been a very tough road emotionally for the parents and the students who "live" for the high school musical each year at Boca. But somehow, during a year where there were more lemons given to the Boca High theater than all the lemon farms in California, the teachers, cast, crew, parents, volunteers along with Alfieri's BrandStar Studios, gave us some of the most sweet tasting lemonade one could ever embibe.
And most important of all, the theater kids had an experience they would never have had without the lemons of Covid!
Bravo! Standing O!
-David de Hilster