Luanda lands the lead of "Patrice" in the musical "13" at Showtime Performing Arts Theatre – a musical that helped launch the career of another teenager from Boca Raton: Ariana Grande.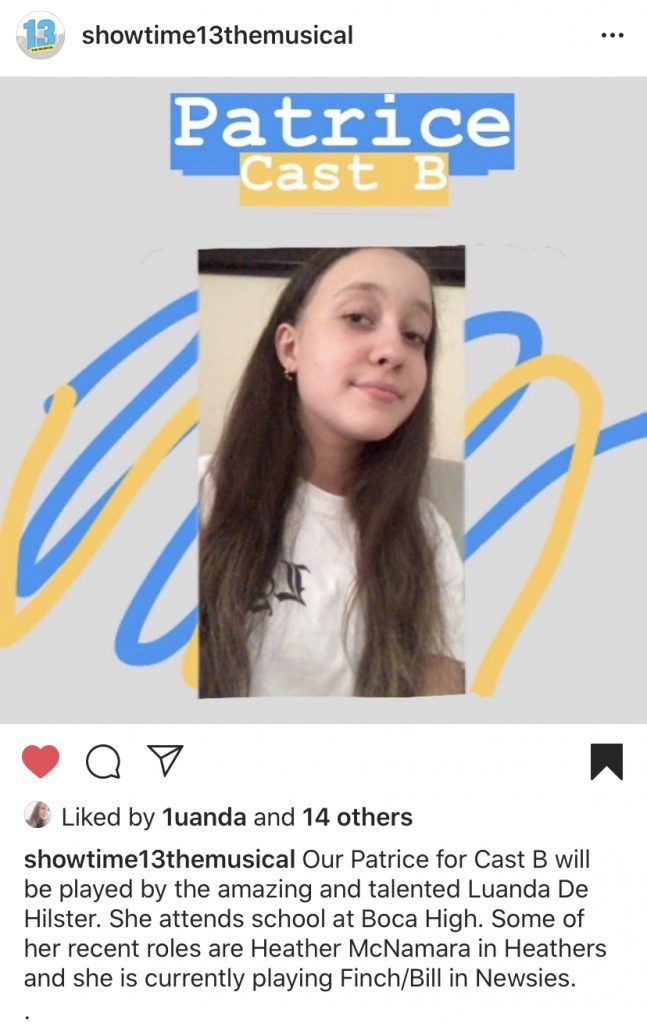 Luanda de Hilster, just off her supporting role of Heather McNamara in "Heathers", has landed the lead female role "Patrice" in the musical "13" at Showtime Performing Art Theatre, an off-broadway theatre in downtown Boca. "13" is a musical production that launched the careers of several now famous teenagers when it first came out in 2008 including Allie Gilles (as Lucie) and Boca Raton's own Ariana Grande (as Charlotte).
A Teenage Musical
13 is a musical made up exclusively of teenagers. Here is the summary:
"Evan Goldman is about to turn thirteen, and he can't wait. His life seems full of possibilities — that is, until his parents get divorced, and he is forced to move with his mom from big-city New York to podunk Appleton, Indiana. If Evan can't get the coolest kids to come to his bar mitzvah, how is he going to survive the school year, not to mention, the rest of his life? As Evan navigates the world of cool kids and nerds, jocks and cheerleaders, first kisses and heartbreak, he comes to understand "What it Means to Be a Friend." With a bright, catchy pop score from Jason Robert Brown, equal doses of humor and pathos, and a cast of wildly talented teens, 13 is irresistible to grown ups and almost-grown ups alike."

Stage Agent
Luanda will be playing the role of Patrice,
"A somewhat bookish girl. She is the first person which Evan meets and they soon become friends. She has a crush on Evan."

Wikipedia
Patrice has several solos and a duet with the leading male character Evan.
Luanda will be performing three of the six performances as Patrice and the other three as part of the ensemble (Patrice was double cast). Luanda can be seen as Patrice on Sunday March 15, Saturday March 21, and in the final performance of 13 on Sunday March 29. She also can be seen as part of the ensemble cast on opening night Saturday March 14, Sunday March 22, and Saturday March 28.
Rehearsals start January 7, 2020.
Purchase Your Tickets Ahead of Time
Productions at the off-broadway venue Showtime have been regularly selling out so please buy your tickets ahead of time. Tickets can be purchased only online at https://www.showtimeboca.com/apps/webstore/