Heathers just closed at Showtime to a packed house in downtown Boca Raton and this writer was sad to see it end. Playing its final Sunday December 22 (I heard they had to bring out extra chairs to accommodate the crowd in this off-broadway venue), the word on the theater community street was that this production was a "must see" in southern Florida and many called it Showtime's "finest" production to date.
Produced by Marilyn Perry, directed by Emily Freeman, musical direction by Rebeca Diaz, choreography by Nicole Perry, and costumes by Stephanie LoVerde, this production of Heathers was beautifully tailored, beautifully choreographed, and beautifully acted and sung by a perfectly cast cast (that is grammatical btw!) All of these directing talents are responsible for the rise in amazing off-Broadway productions at this off-broadway venue in downtown Boca Raton.
Heather's Musical Genius
Heathers is nothing like any musical you have ever seen. A cross between "Grease", "Friday the 13th", and "Laurel and Hardy", Showtime's Off-broadway production of this zany and dark comedy had twists and turns at every moment. Just when you thought you were catching on and things couldn't go further, they did. I had the privileged to see opening night without ever seeing Heather's and it was 100% pure fun and entertainment. From slap-stick jocks, to raw emotions on difficult topics, this musical was fun, fun, fun AND: amazingly produced and acted.
The musical itself is musical genius and this production did the musical proud with groupies of the musical appearing during its three-week run.
The Complicated Couple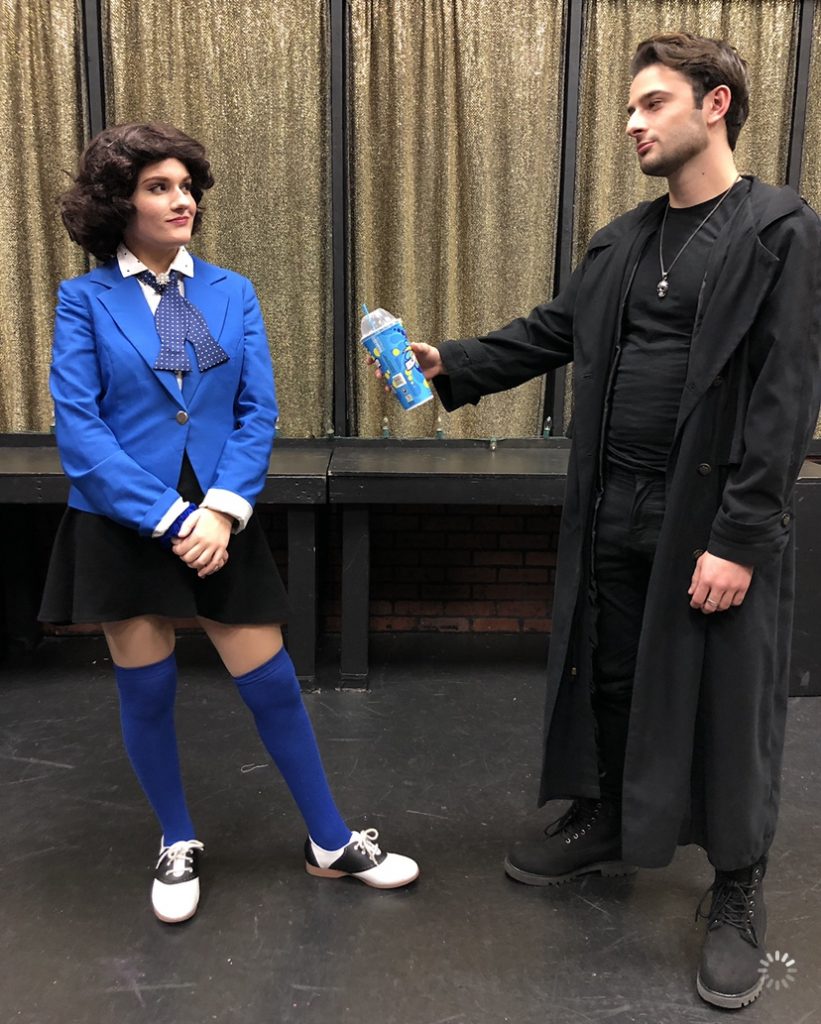 The principle couple, Veronica Sawyer played by Victoria Vagasy and Jason Dean (J.D.) played by Michael Miguez, displayed a roller-coaster of emotions during the course of this extremely intriguing and entertaining musical.
Vagasy, dressed in a shocking blue jacket that contrasted her character from the three Heathers, is a powerhouse of a voice that goes from soft earnest crooning to belting high notes all while adeptly playing the troubled character whose homelife is less than perfect and whose social life is even worse. She is the narrator of this complex yet funny musical making mental notes into her diary that were superbly acted and even more beautifully sung. Vagasy's many solos and her duets with the leading man were worth the price of admission alone and the audience appreciated her special talents with raucous rounds of applause throughout the night. Star.
Michael Miguez was wonderfully cast with the perfect look, acting, and voice for the very complex character of Jason Dean. He starts out as the cool "Keanu Reeves" character and morphs into something quite different by the end of the musical. His singing solos and duets with Miguez showed off his trained singing prowess and top-notch acting that slowly reveals an extremely complex character as the musical moves forward. Without spoiling the plot, safe to say your romantic view of his character takes a radical turn and Miguez aces it to the very explosive end. This is Miguez's first musical and you would have never known it. Wow!
Three Heathers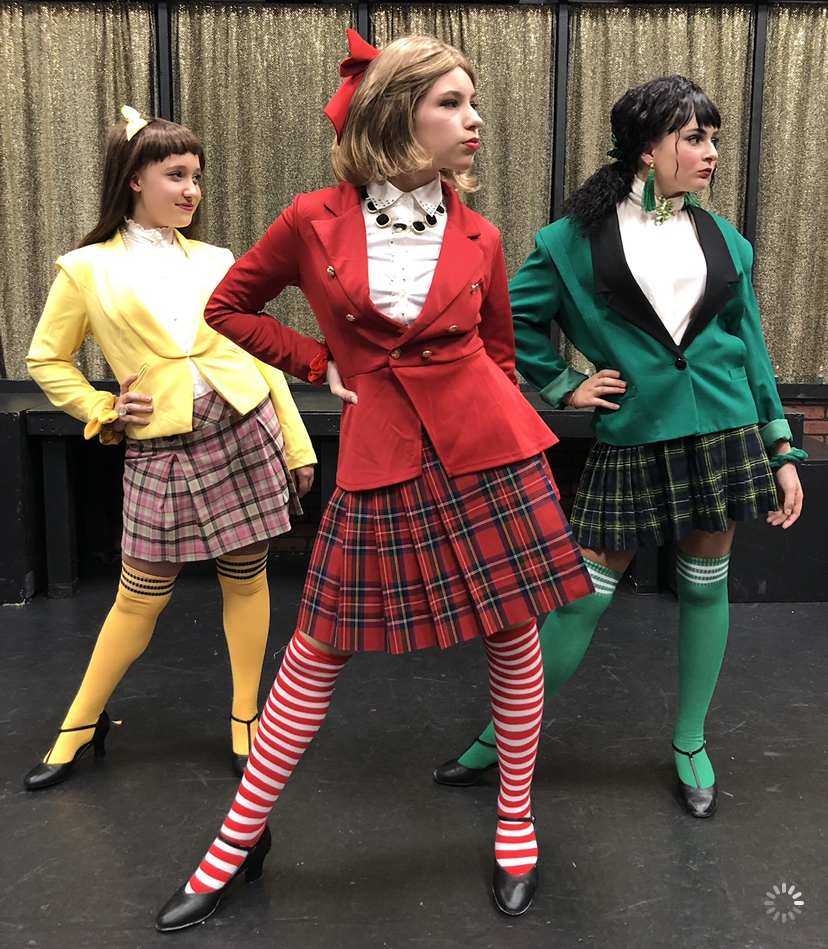 The three Heathers, Chandler (red) played by Sarah Lash, McNamara (yellow) played by Luanda de Hilster, and Duke (green) played by Carmela Nussbaum, were a perfect dynamic trio – armed with powerful voices, great acting, all of course, sporting their trademark colors and matching croquet mallets. This trio is ruthless in their character interpretation, singing, and acting, knocking it out of the park during the course of this musical packed great songs, great laughs, and great viciousness.
Sarah Lash, the lead Heather, always in red, makes you want to hate her from the onset. Lash's condescension is impeccable and her voice acting is spot on routinely going from quiet hate, to screaming out commands to the other Heathers who sheepishly obey. And of course, all who know this musical theater actress (Sarah Lash) know of her many years of experience on stage as a triple threat with her superb dancing high kicks that wow, to her acting, to her angelic and powerful award-winning voice. She plays the true nastiness of the Heathers to the letter and you can't help but hate the character yet admire Lash's amazing skill set.
Luanda de Hilster, Heather McNamara all in yellow, plays the stereo-typical beautiful-yet-not-so-bright cheerleader whose infectious smile and hair-flips is endearing from someone who thinks they are one of the "privileged". De Hilster has the look and emotions down pat using her acting and singing skills to perfection fitting the role of someone dressed is bright yellow. De Hilster blew away the audience with the only solo song of the three Heathers. Her superbly emotional rendition of the technically difficult song "Lifeboat" about a powerful the powerful subject of suicide moved from emotional confession, to belting her heart out in a desperate plea for her life. De Hilster's powerful style and voice is on full display in this second act solo that shocks audience goers who only till then, saw her just as another pretty face in the cast.
Camerla Nussbaum, Heather Duke, all in green, provides some of the best comedic moments from the Heathers adding another powerful singing voice to a dynamite trio of actresses and talents. A veteran musical theatre actress mature beyond her years, Nussaum nails her humorous lines while garnishing many an audience laugh, from her off-beat comments, to barking out commands, all the while staying in the world of Heather arrogance. Nussbaum shines as a character actor during a performance as several TV hosts giving a hilarious rendition of annoying TV personalities switching from English to a perfect Spanish accent. Overall, Nussbaum adds a marvelous third voice to a superbly-talented trio of Heathers.
Bravo Heathers!
Great Performances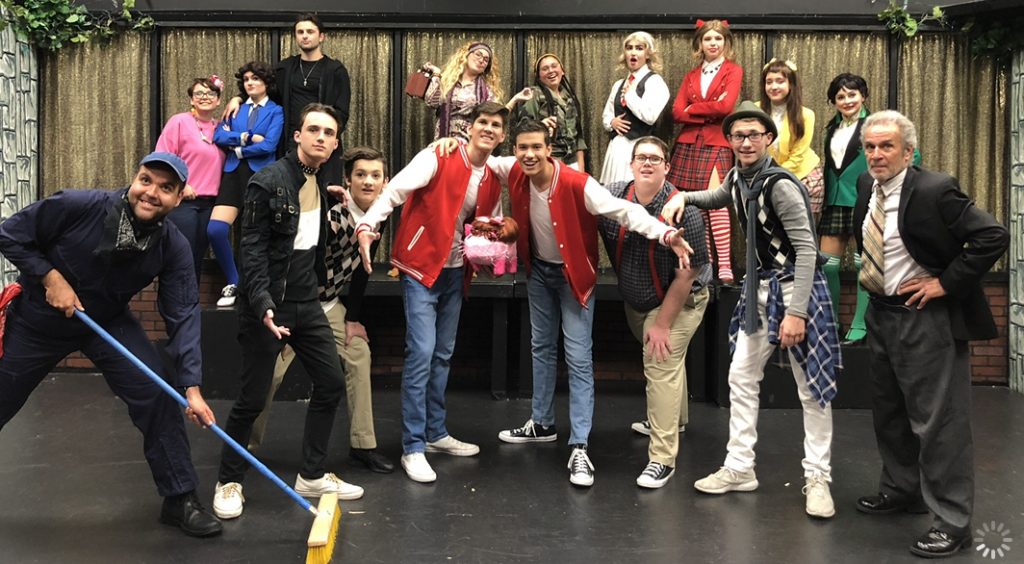 Two actors who stole the show were Daniel Ortiz and Zachary Bouras who played the goofy, slap-stick football players Ram Sweeney and Kurt Kelly. Decked out in proverbial Letterman jackets, Ortiz and Bouras combined in genius-level acting jumping between slap-stick hilarity, pure cruelty, to laugh-out-loud funny. From belting out show tunes to off-stage cow tipping, their true skills as comedic actors and musical singers was on full display. One scene in which they are pushed into a pile of imaginary cow manure, is a clinic in theatrical pantomime with their slip-sliding acrobatics garnishing Tony-worthy raves for its timing and improvisation. The "comedic moment" every night was their reciting a fictitious love note written by one of the Heathers wrongly declaring them gay lovers and their prancing off stage rolled the audience in laughter. They were by far an audience favorite.
Martha Dunnstock, AKA Martha Dumptruck was a great surprise of the night, played beautifully by Amalia Phend. Interpreting the obligatory "unpopular" girl, Phend won the audience over with her vulnerability and her acting skills. What really highlighted Phend's talent was her girlish singing solo up in the balcony where Phend showed off her vocal skills with great emotion and long notes – never missing a chance to convey her character in perfect form. A truly "wow" performance.
Some regulars and some new faces during this Showtime production added important and funny roles in this humorous and plot-twisting musical. Steven Taliaferro, a regular at showtime, played both Big Bud Dean and Kurt's Dad perfectly rendering the hilarious characters of two dads-gone-wrong. Taliaferro played the very twisted dad to the lead male character Jason Dean whose demented mind always kept the audience wondering who he was talking about, often referring to himself in the third person. Taliaferro's rendition of them hippy-like, totally demented character revealed his versatile acting skills to all.
Taliaferro was joined in the second act's opening number by a newer Showtime regular Zaylin Yates who played Ram's dad, in what was the most lively and hilarious number of the entire musical. In this rendition of "I Love My Dead Gay Son", Yates and Taliaferro go through an entire transformation – several times over – during one rip-roaring song which had the audience rolling on the floor with laughter. Yates on this first night, even lost his wig, ad-libbing it into the musical number which added even more energy to the most energetic number of the night. Yates also played coach Ripper adeptly.
Miss Flemming, played by Paola Saldana, was a perfect reincarnation of an old hippie who added chaos and love to the crazy story. Her singing solo where she volunteers to tell "her own intimate story" to the audience reveals a plot twist that added punch to the character and the story – a moment in which Saldana took full advantage with her singing and acting skills.
The rest of the ensemble cast was also well cast to perfection with great singing and dancing played by Steven Freeman (Principal Gowan / Veronica's Dad), Ariel Vazquez (Stoner Chick), Sofia Puritz (Young Republicannette / Vernoica's Mom), Dylan Hobbs (Beleaguered Geek), Austin Romero (Preppry Stud/Officer McCord), and Antonia Saladino (Hipster Dork).
Freeman played the unaware father of Veronica as well as the principal who get's outed by Mrs. Fleming in her scene. Ariel Vazquez added a comical character whose singing could be felt during the chorus numbers. Vazquez added some top-notch acting and acrobatics to the dance numbers while Hobbs, Romero, and Saladino added their own dialogue and dancing while filling their characters wonderfully with their looks, acting, dancing and singing. It was a total package of talent and infectious energy all around.
Becoming a "Can't Miss" Off-Broadway Theatre Venue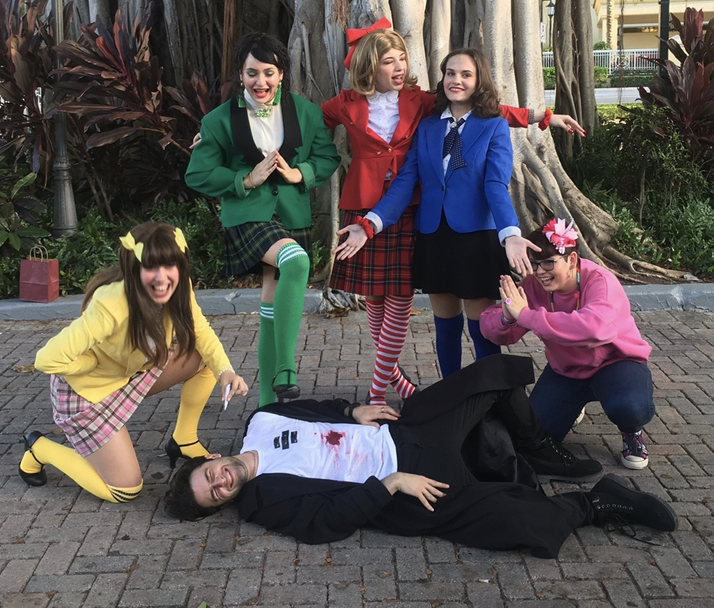 Overall, I was greatly surprised and entertained by this production. Every time I think Showtime can't top their last production, they do just that. And Heathers topped all my expectations as it did many who had the privilege to see it.
2020 Season: Newsies and 13
Next up: Newsies and 13 and knowing the actors that auditioned for the roles in these two lively and challenging productions, we are in for an even better 2020!
You can buy tickets and find out current and upcoming productions at Showtime's website at http://www.showtimeboca.com.
–David de Hilster, Theatrical Critic and Blogger
Showtime Performing Arts Theatre is an off-broadway venue featuring professional productions for adults and children as well as professional and fun classes for all in dance, acting, voice, and acrobatics.