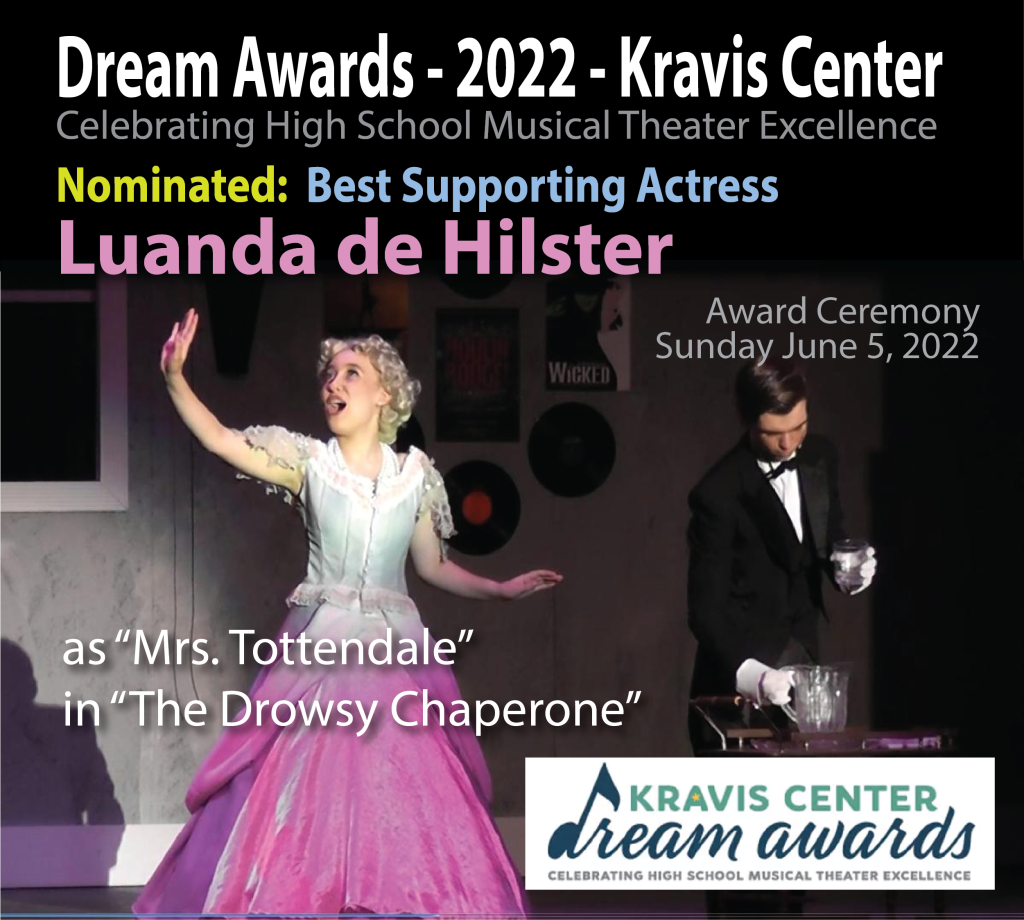 Luanda de Hilster was nominated for best supporting actress for her role as Mrs. Tottendale in the Boca High Musical "The Drowsy Chaperone". The award is part of the local chapter of the national high school musical awards called the "Dream Awards" held every year at the Kravis Center.
Dream Awards Review of Luanda's Performance
"Luanda DeHilster was excellent as Tottendale. DeHilster found the innocence and naivete in the character, without resorting to cliches of vapidity or stupidity. Tottendale knows what she knows, and is secure in her lack of awareness. I appreciated DeHilster's physicality, especially the jogging, prancing style of movement; and performing it consistently. I also appreciated DeHilster's ability to find a vocal style that was broad but based in truth. Again, it did not come across as clichéd or forced. Great work in all of the musical numbers, especially the group numbers and 'Toledo Surprise.' Excellent work!"

The Kravis Center Dream Awards is dedicated to recognizing the outstanding achievements of high school musical theater students in Palm Beach County. After a yearlong adjudication period where highly-qualified industry professionals provide feedback on the participating schools' productions, certain students are invited to perform in a special performance in Dreyfoos Hall. At the end of the showcase, two extraordinary students will be given the opportunity to participate in the National High School Musical Theatre Awards in New York City.
Boca High's Nomination List
Boca High School's "The Drowsy Chaperone" was also nominated for the best musical as well as 15 other students from Boca High. Here is a list of all the Boca High Nominations: