Luanda came home during rehearsals and said, "Dad: they all sang in tune the first time during rehearsals!". Luanda was referring to working with an all-adult cast in the musical Rent. I was worried about how she would handle an all professional cast and she loved it – and most importantly: thrived in it!
Once in a while it happens. But it seems to happen a lot at the downtown off-broadway theatre Showtime run by Marilyn Perry. I'm talking about clicking, cast chemistry – that mysterious and unexplained phenomena when a group of musical actors come together to make something magical. And that is what exactly what happened with the musical and cast of Rent from March 30 – April 14, 2019 at this marvelous downtown venue.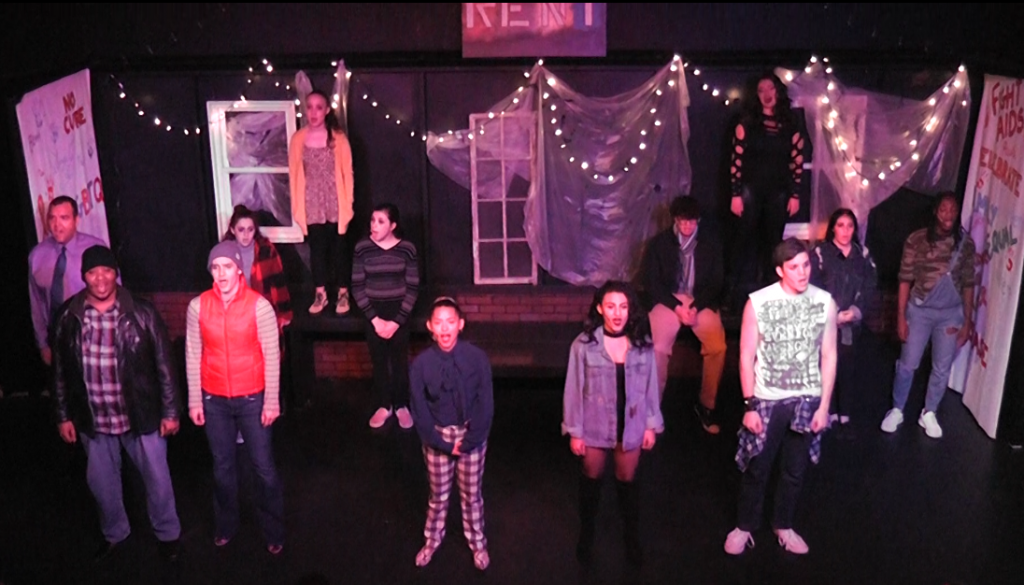 Having witnessed four performances of Showtime's Rent!, I can safely say that the cast was top notch and that the chemistry between the cast members did really click. The production rehearsals took less than a month but the overall result was a stellar production and a cast that fit into their roles like gloves.
Directed by Emily Mittleman, with musical director Rebeca Diaz and makeup by Stephanie Anne, the great casting and direction for musical were matched by the great voices accompanying the demanding parts to this musical which is celebrating its 20th year anniversary.
Actors Talented and Well Cast
The cast was quite talented in voice and acting and they really came together as an ensemble. Here are some of what I saw during my four viewings of this amazing production.
Male Cast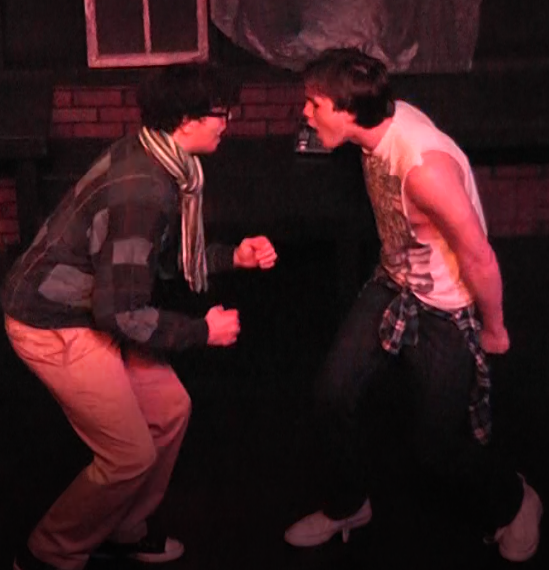 Giogio Garcia and Dallas Erwin played the two main male leads and showed their powerhouse singing and acting by playing off each other's energies in fabulous form. They played the roles of Mark Cohen and Roger Davis respectively who have songs and scenes that are demanding in very different ways.
Giogio Garcia who played Mark Cohen was deceptively good. Acting like an uber nerd with a camera and glasses, his narrating the story seemed very innocent and child-like at times in a completely comfortable way but when he opened his mouth to sing, wow: he was great. Garcia kept fooling the audience into a comfort zone of just being a regular guy until the moment he sang. It was then that he clearly showed he was a formidable powerhouse to Erwin's Roger and their duet "Living in America" overpowered the off-broadway theatre and delighted audiences each of the six nights of performances.
Erwin who played Roger had a powerful voice and delivery style that perfectly matched the drama of a character who had a range of emotions that normally an actor doesn't have to contend with all in one musical. From confused, to depressed, to falling for his romantic lady, his voice and acting were spot on with the power level hitting 10 various times through the production. From romantic and quiet to belting out "American" with Garcia, the pair were a 10 out of 10 in the eyes of this critic.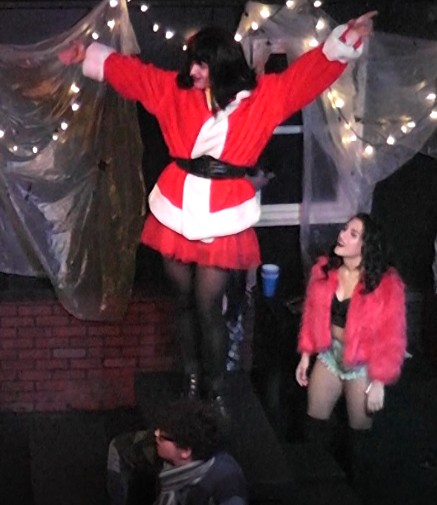 The other two main male leads kept up with the two main characters often stealing the show when they came onstage with Rosseroni Parris and Emmanuel Oliver playing Angel and Tom Collins respectively.
When Parris entered the stage dressed in a Santa's costume, he stole the show in his all-encompassing characterization of a complicated, strong, and vivacious character that not only showed off Parris' seasoned acting skills, but his amazing voice that screamed "veteran" of the stage. He was an audience favorite and flaunted the role in exact accord with the character Angel while contrasting it all in a culminating scene where he adeptly pulled off the emotional moments of Angel's death from the ravishes of the AIDS virus.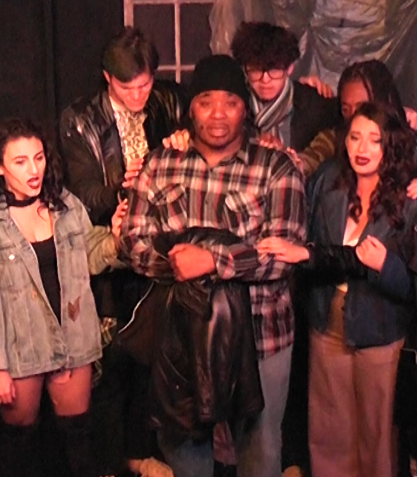 Oliver, playing the love interest to Parris' character, was cast perfectly for the role of Tom Collins whose voice and acting was deceptively good with Oliver pulling off some of the more difficult and "dangerous" numbers where he had to both sing and emote while remaining the lovable character he was.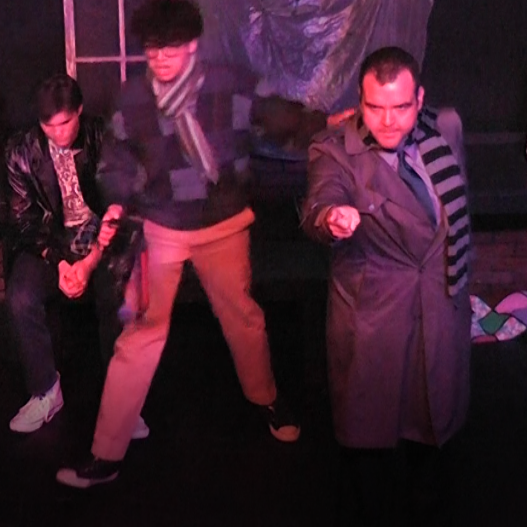 Rounding out the male cast were Steven Gregory and Marcel Brown who played Benjamin Coffin III with Brown as a major ensemble part as the waiter, drug dealer and father. Gregory was the perfect villain and "person who cared" while sternly showing his affection for this difficult band of characters all the while belting and acting his way out of and into the audience's hearts. I thought he was spot on and very well cast.
Brown, a major ensemble actor with a silky smooth voice, was a very competent actor and singer who went from drug dealer to father, to waiter singing beautifully from character to character.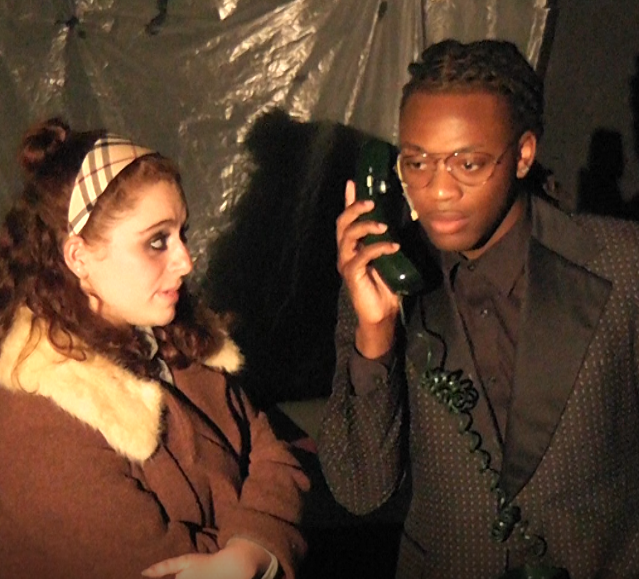 Female Cast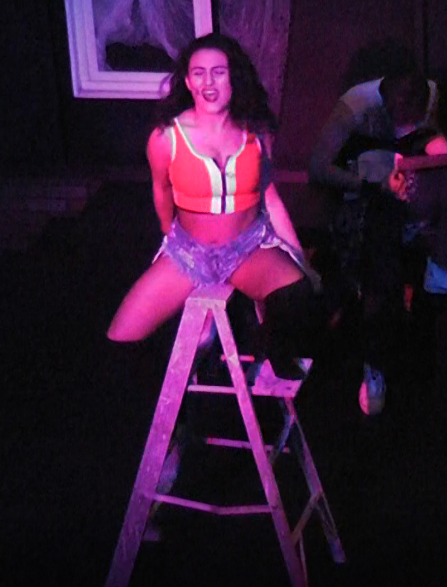 The three female leads played by Rachel Starikov, Analucia Choy, and Savannah Marino were also well cast and put on a great show both in acting, singing, and dancing.
Rachel who played the very complex character of Mimi Marquez, gave the audience a genuine feel for the desperate plight and life of a women who felt the entire array of human emotions while addicted to drugs . The part required a lot of sultry moves and desperation and Starikov showed a steady and large ranged voice for her numbers including "Out Tonight" as well as "Light my Candle" during the complicated love scene with the main character Roger.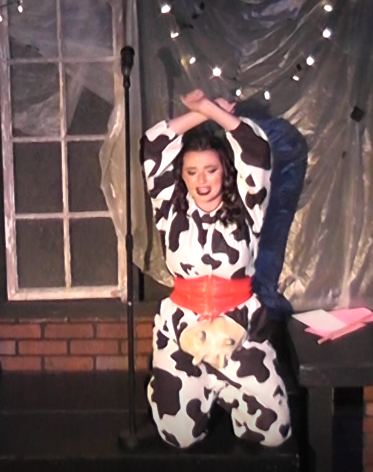 Savannah Marino who played Maureen Johnson nailed the famous "Over the Moon" number where she wore a cow suit and spoke the nonsense as if she was selling ice to Eskimos – it was very believable during a number that often makes no sense to audience. Safe to say she made great sense of this signature piece. Her love interest with Choy's character and their duet "Take Me of Leave Me" was spot on and could not have been better between the two actresses.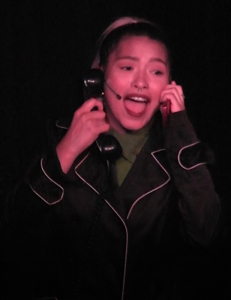 Choy who played Joanne Jefferson portrayed the mostly unliked character to a tee whose attitude of never being satisfied and always wanting to fight came through loud and clear. Choy breathed life into a complicated character that wanted to dominate but just couldn't quite keep her love Maureen in check. Her dance sequence with Mark was extremely well acted and was accompanied by great dancing and singing.
Rounding out the ensemble females were Hannah Gelfand, Haily London, Sara Lash, and newcomer Luanda de Hilster. London and Gelfand had several solos and were part of numerous acapella songs adding their strong and beautiful voices, dancing and acting next to a very talented cast. There was no drop off in the quality of the their work and they showed their skills as musical theater actresses.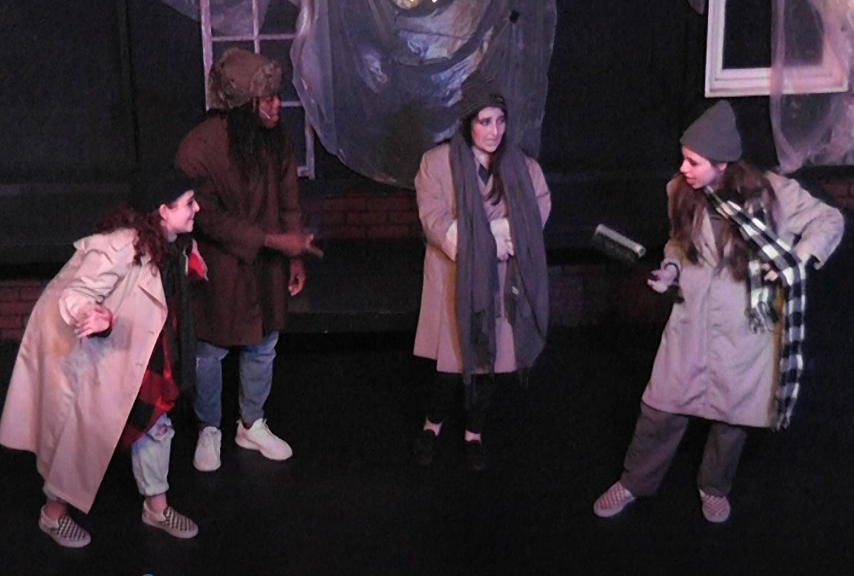 Younger Revelations of the Cast
Being the only middle schoolers in the cast, Sarah Lash and Luanda de Hilster were two of the revelations of the cast who both sang and acted well beyond their age.
Lash, fresh off winning best vocalist at the Future Stars contest at Mizner Theater in Boca Raton, showed of a voice that should only belong to the angels or very old and experienced singers. Her solo and improvising in "Seasons of love" (see her solo in the above video) garnered applause each and every night where the audience interrupted the song in mid sing when Lash hit her high "whistle note" with the adeptness of Ariana Grande including the amazing ability to play with the melody at will. This girl is barely a teenager: Wow!
De Hilster, the youngest in the cast was in her first off-broadway-like production and took full advantage of her small but important roles. Her unmic'd solos kept up in volume with the older more experienced mic'd cast and her interpretation of Alexi Darling was about as perfect as possible, defying her age of 13 years. She has "it" as they say in Hollywood as an actress and singer and expect to see more from her in future productions at Showtime and around town.

Directors
Of course, none of this happens without the directors of this amazing production. It starts with director Emily Mittelman who seems to know how to get the best out of an amazing cast. She did confess to me she didn't have to do much directing given the talent level of the actors but she obviously had a great say in what happened and the result was magic.
Rebeca Diaz was the musical director and the harmonies and arrangements, the solos, and the vocals were spot on and were one of the great surprises of this production. The singing talent was obvious and with incredibly gorgeous songs like "Seasons of Love", "Will I" and the boisterous "La Vie Boheme" were concerts unto themselves carefully crafted by Diaz and I thoroughly enjoyed them as if they were stand alone recitals.
The choreography by Xxxx was done quite well given this is an intimate space and space is important to fill but use with dance. The solo between Mark and Joanne entitled "Tango Marueen" was quite good with both actors keeping their character but pulling off a very decent tango that one wouldn't expect in a production of this type.
Finally, the makeup by Stephanie Anne, although simple, was quite effective giving the cast the looks needed during times of sickness and drastic changes in characters needed during the musical.
Congrats to All
Congrats to a magical cast, amazing directors, and to Marilyn Perry who keeps off-broadway theatre alive and amazing in downtown Boca. If you haven't gone to one of the musical productions at Showtime Theatre, you are missing a truly special time out when it comes to the noble art of musical theater.